Using wooden beads as an accent in home decor is pretty popular at the moment.   If you've priced them, they are rather expensive.   Sure you could purchase wooden beads and make your own strand of beads to display, or you could make your own.   Today we are sharing how to DIY Air Dry Clay Primitive beads.
I call these beads primitive, because not only are they are decorated with a simple pattern, but mostly because they are hand-shaped, which means they are not exactly perfect.   These are so easy and fun to make.  If the primitive design doesn't go with your decor – decorate them any way you choose.  After all, that's the beauty of DIY!
Supplies Used
Air Dry Clay
Bamboo Skewers
wax paper
fine grit sand paper
sharpie
hemp cord or twine
Start by rolling air dry clay into a balls the size you want your beads to be.
Pierce the center of the rolled clay with a bamboo skewer.   Note:  They may become a little misshapen, and if they do,  reshape by hand.
Set the beads aside on a piece of wax paper to dry for several days.  However, check them once a day and roll the beads around on the skewer so the beads will be easy to remove when dried and wont stick to the bamboo skewer.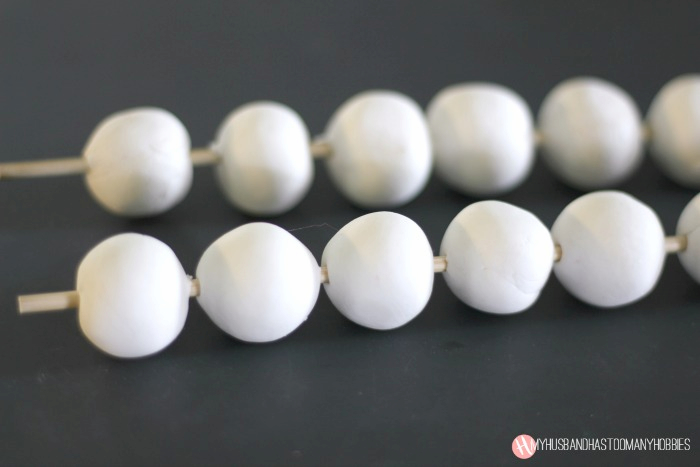 After the beads have fully dried (I let these dry for a week), remove from the skewers and sand lightly with fine grit sandpaper.  This cleans up the ends where the holes are as well as smoothing them out a bit.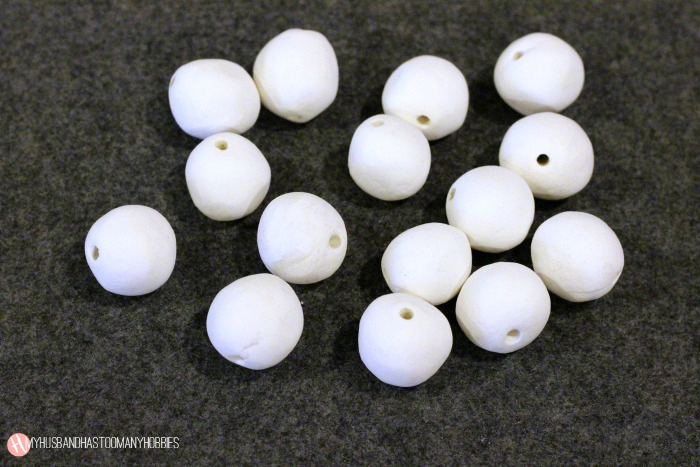 Leave them white, paint them or do what I did and decorate them with a pattern using a black sharpie.  I did two different simple patterns on mine.
Hemp cord was used to string the beads.  This cord was purchased on clearance a couple of years ago at Hobby Lobby and is perfect for this project.   A tassel made with the same hemp cord is attached to one end of the strand.   The other end of the strand was just knotted for now.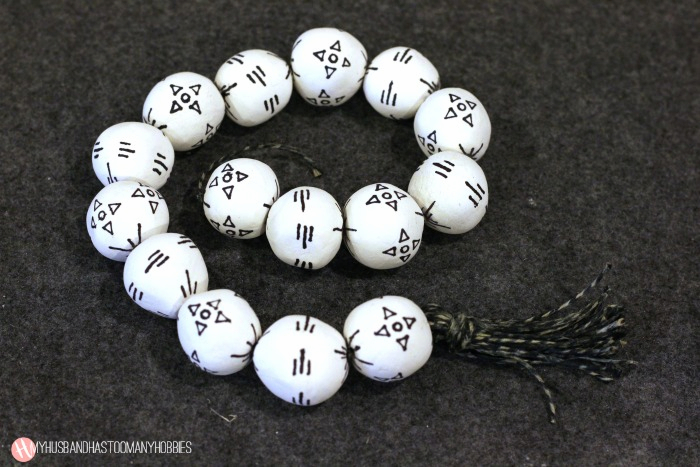 If you want a longer strand  – make more beads, simple as that.  I was pleased with the length of this strand for now.   After all, I can always make more too!
I had fun setting up a couple of display ideas to share with you.   First I used a wood box and the wood box lid.
Hang them on a picture frame.
There are so many ways to use these as a decor accessory and what a fun conversation piece they will be.
If you enjoyed this project, please Pin the below image to share.   Thank you so much for supporting this blog.