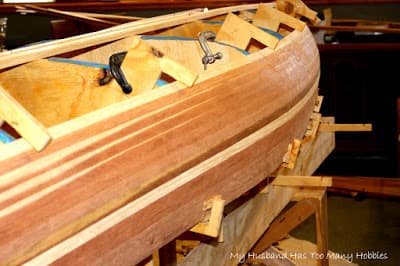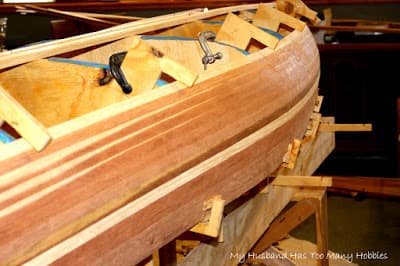 Hi Friends!  The canoe building continues in my basement.  Mr. Hobby has made substantial progress since the last update.  You can see from this picture that he has added several strips and has just about finished the sides and will be moving onto the base (bottom) of the canoe.
The week before last, I was enjoying the beautiful weather in the Gulf with a very good friend of mine, while at home, snow was the order of the day and school start time was delayed.
Despite the chilly temperatures back home, and Mr. Hobby having to man the fort without me, he was still able to steal away some precious time to work on the canoe.
Several thin strips were cut from the red cedar boards.
A groove was routed into each strip in order to make it fit snugly onto the connecting strip.
Each strip was then fitted, glued and clamped to dry.  You can see in this picture how the glue tends to run.  After it is dry, Mr. Hobby uses a scraping tool to remove the excess glue.  He could wait to scrap off the excess glue until the entire canoe is completely glued together, but he likes to work in sections gluing and then removing the excess.
This is a close up of one of the sides.  Surprises me as to how thin it actually is.
Mr. Hobby is ready to start working on the bottom of the canoe, but the saw horses which are currently holding up the canoe, are now to high for him to work comfortably.
As my friend and I were preparing to leave our rented beach house, Mr. Hobby was contemplating how to lower the canoe to make it easier to work on.
I arrived back home hours before the snow started to fall and in time to spend a lovely Valentine's Day with Mr. Hobby.   The four inches of snow we got did not last long, as temperatures were thankfully, back on the rise.
Mr. Hobby solved the height issue by using 2×4's to build his own stands to lower the canoe to a more comfortable height.
I'm sure there will be some challenges to face as he adds the strips to complete the bottom of the canoe, but the progress is pretty exciting! I can't believe how far he has gotten!
If you are enjoying following along, we'd love if you'd Pin It to Share!  Thank you !!
Thanks for visiting and following the progress!
You can see all posts on this project [ here ].