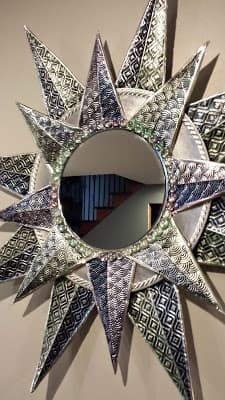 After posting my charger plate sunburst mirror, I decided that it needed something more. . .
Another set of metal embossed rays was just what this mirror needed using easy metal embossing techniques.
So I choose another pattern and embossed a larger set rays to glue to the underside of the charger plate.
Turning the piece over, I finished the edges again using a decorative embossing wheel.
Still on the backside, I used a teflon embossing tool, to draw a line down the middle of each piece.
Each piece was finished with gilders paste to add color. I attached each piece to the back of the charger plate with glue. Then I glued a piece of felt over that – making sure to leave an opening for my wire hanger. The felt will protect the wall against the metal edges.
Here is a mirror after I hung it:
It was pretty, but not really right for my space and I felt it was still missing something. . . I decided to sleep on it.
This morning an idea came to me and I decided that what the piece needed was some antiquing. So I got an empty jar and added some standard black craft paint and a little water. I painted that mixture on each of the pieces, waited a minute and wiped it off.
This finally gave me the look I wanted.
Now I just need to decide where to hang it to show it off!
NOTE: If you want to see Part 1 of this project for additional instructions, click [ here ].
Thanks for the visit!