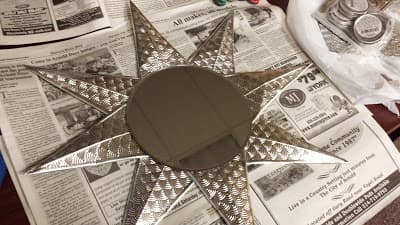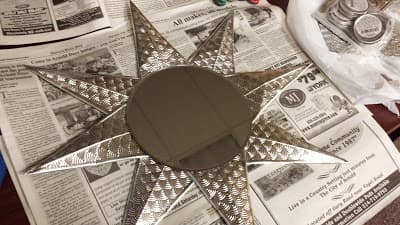 I have been seeing sunburst mirrors all over Pinterest.   So many different ideas and materials were used by some very creative people.  I decided I'd make one for myself using materials I had on hand.
For this project I used:

Aluminium metal embossing foil sheet
embossing folder (you could free hand a pattern or use a stencil)
paper stump
embossing decorative wheel tool (optional for finishing the edges)
teflon embossing tool (you can use a regular pencil instead)
scissors to cut the metal
hammer and a nail
small piece of wire
Silver Charger Plate
Craft mirror
handful of glass filler beads
hot glue gun
alcohol inks (you can also use glass paint or leave the metal as is depending on the look you want)
Quick Grip all purpose permanent adhesive
Q-tips
Denatured alcohol
Most of these supplies I had on hand. The charger plate and craft mirror were purchased at Hobby Lobby for a whopping $6.00. The embossing folder that I used for this design can also be obtained at Hobby Lobby for $5.00. The embossing folder is typically used for paper crafting or scrapbooking, but it works for metal as well.
Step One:
I cut out 8 triangle pieces from the metal and using an embossing folder and a paper stump, I rubbed the pattern onto the metal. Then I drew a line down the center with a teflon embossing tool and finished the edges with a decorative wheel embossing tool. I bent each finished triangle slightly in the middle to give each point and 3-D effect.
Step Two:
I colored the metal with alcohol inks and q-tips.
Step Three:
I used a nail and hammer to punch two holes into the charger plate to run a wire through for hanging.
Step Four:
I glued the triangle pieces to the back of the craft mirror, then glued the mirror to charger plate using the Quick Grip adhesive.
Step Five:
I used a hot glue gun to attach the glass beads around the mirror.
Step Six:
Using a q-tip and a little denatured alcohol, I took off some of the color to let the silver metal show through.
Step Seven:
Hang and enjoy!  This was a relatively quick project. Took two evenings to complete. One to emboss the metal and cut it out, and another to put on the color and put it all together.  Using the embossing folder made quick work of the pattern on the metal. This was the first time I had tried using some type of stencil to create the pattern. It is a good choice if you want a fast continuous pattern.
NOTE: You can see Part Two of this project by clicking [ here ].