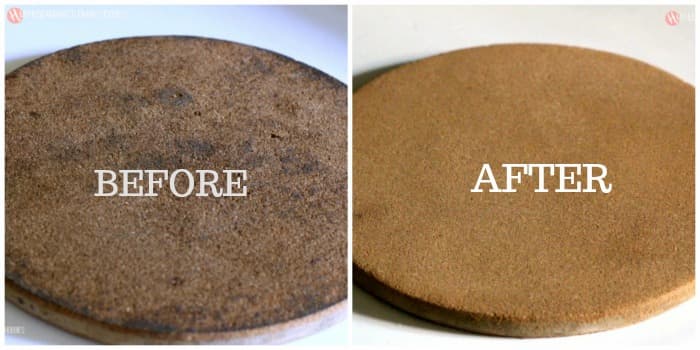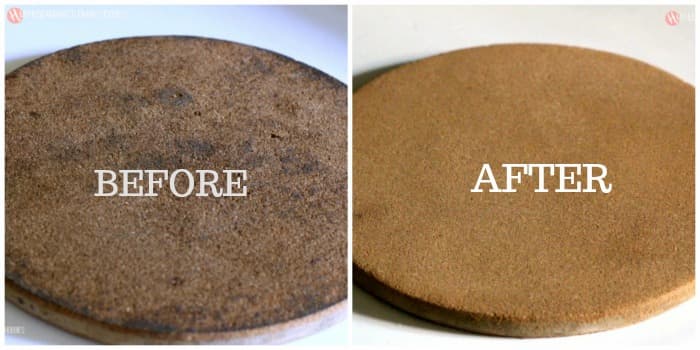 I'm a little embarrassed to show you this, but I was so amazed by the results, that I had to share it with you.   I have two cork trivets that we've had for years and obviously use – frequently.   They weren't pretty anymore, but they got the job done.   Although I washed them often, they never really improved much.
I really didn't think  I would ever be able to get these trivets clean again, but I figured I'd give it a shot before I threw them out and bought new ones.
How To Clean A Cork Trivet
 Use a piece of fine grit sand paper to sand the top of the trivet.  I used a 220 grit paper.   I laid the trivet on a piece of cardboard to sand because I was already working on another project and the cardboard was out.   The sanding will produce a little dust,  so the clean up was contained and easy.
 After sanding, shake off the dust created by the sanding.  I just tapped it against the cardboard a few times.
 Wash the trivet with dish soap.  I used Dawn and a little scrub pad.
 Allow the trivet to fully dry before use.
The difference was amazing and it took only a few minutes to get this result.   Mr. Hobby, who does most of the cooking (yes I'm a lucky girl),  noticed right away and was also impressed with the result.
Give it a try before throwing out a well used trivet.   If you enjoyed this post, please pin the below image to share!  Thanks so much for supporting this blog.