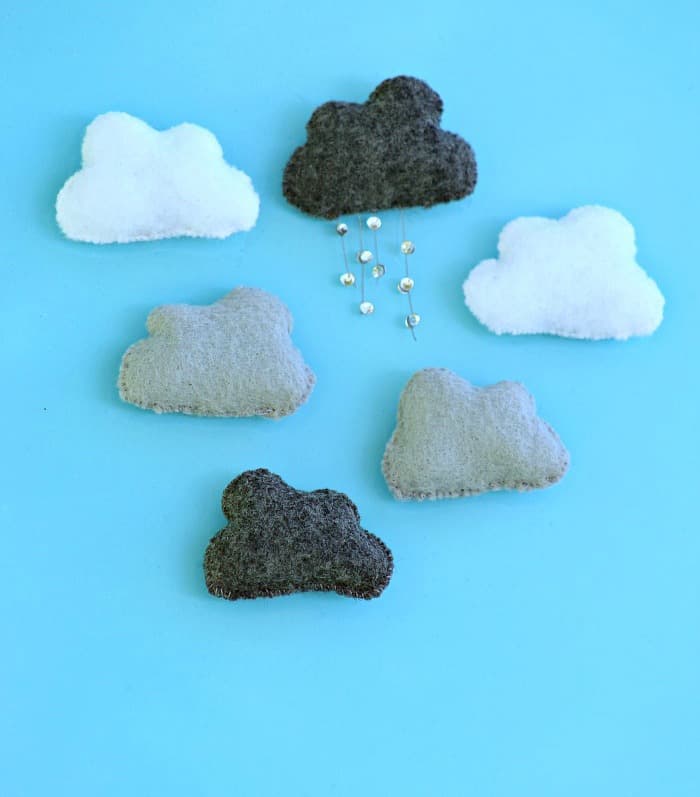 Not much to do on a cloudy, misty day when you've just finished the novel you've been reading.  That's where I found myself today.    Inspired by the weather, and a hefty stash of felt, I found it was the perfect day to work on this project.
This is a simple project, easily done in a short afternoon.  These Cloudy Day Magnets are strong enough to hold all those important notes and appointment reminders on the fridge.
Supplies Used For Cloudy Day Magnets:
White, light gray and dark gray felt
white, light gray and dark gray thread
sewing needle
scissors
thin card board for a pattern
strong magnets
stuffing or cotton balls
optional little beads
Start by drawing a cloud pattern on a thin piece of cardboard.  You can see that I adjusted mine to make it a little more fluffy.   I took pictures with a ruler so you could get an idea of the size of the pattern I used.
Use the pattern to cut 2 piece of felt of the same color for each cloud you want to make.  Using a matching thread, whip stitch it together on all sides leaving the bottom open.  My stitches aren't perfect, nor exactly even – don't judge!
Insert a strong magnet inside, then stuff the stuffing over the top.  Make sure to get the stuffing in all the areas.  I used the point of a scissors to push the stuffing into each area.  I did not put any stuffing behind the magnet.  Whip stitch it closed.   Done.  Well, that is unless you want to embellish it a little more by adding a few rain drops.
To add the rain drops, I used mini crystal stickers that I sandwiched a dangling thread between.
They look adorable on the fridge!   A perfect way to while away a few hours.
If you enjoyed this project, please pin it to share!  Thank you for supporting this blog!