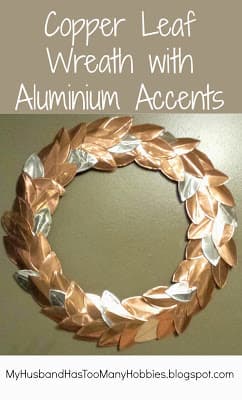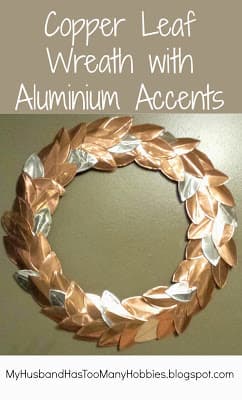 This is a perfect simple embossing project for a beginner.  This wreath is made with leaves cut from copper-colored and aluminium metal embossing foil.  The edges of the leaves are finished with a decorative embossing tool.
Last night, my daughter #2 came home for a visit.  She is just weeks away from her college graduation and I'm so proud of her!  We decided that a movie marathon was in order because I had just picked up the third Hunger Games Movie DVD.   And better yet, my daughter was delighted to help me with this project while we watched the movies.
I'll have to apologize in advance for my tutorial and pictures this week.  My daughter and I talked, laughed, watched the movie while working on this project.  Needless to say, we didn't take many pictures and the ones we did take were not taken with best lighting.
Tutorial for Copper Leaf Wreath
 Supplies Used:
Wire Wreath Form
Metal Embossing foil, aluminium on one side, copper tinted on the other  (38 gauge)
Embossing tool decorative wheel – herringbone pattern
Embossing stylist
Scissors
Hot Glue Gun and Glue
A leaf pattern
Soft Embossing surface
For more information on where to obtain supplies and tools – check out my 4 part series on
Embossing, The Basics
Info on Metal Used:    People have asked me if the metal I use has sharp edges.  This tooling metal (38 gauge) is pretty soft and pliable.  It cuts easily with ordinary household scissors and is slightly thicker than a disposable tin foil backing pan.   As long as your cut edges are clean, you shouldn't have any issues handling the metal.  Don't get me wrong, if you rub the side of the metal in just the wrong way, you will get cut, just like you would with paper and the resulting paper cut.
I hand drew a leaf on a piece of paper to create a pattern.  I traced 70 leaves on the metal tooling foil using a stylist.  My daughter and I cut them out using standard household scissors.  This was the longest part of the process, but it went very quickly with both of us doing the cutting.
For a soft surface I just used a scrap piece of  foam board that I had left over from another project.  It worked great because I could do the simple embossing while sitting on the couch and the foam board doubled as little table for me.   I used a herringbone patterned decorative wheel and ran the wheel along the outer edge of each leaf pressing firmly.
Using the embossing stylist, I drew a quick line down the center of each leaf.  That's it for the embossing on this project!
I don't have any pictures of the next step.  I guess we were too into the movie, but it's pretty easy.  I used a hot glue gun and glued each leaf onto a wire wreath form.  I was careful to only glue the bottom half of the leaves down.  This way, if I wanted to go back and add a leaf here or there, it would be easier to do.  Also, when you work your way around the wreath, in order to put in the last leaves, you will want to tuck them under the first leaves that you attached. So if you leave the top 1/2 of the leaves unglued, you will not have any trouble in the end.
Every four or five leaves, I would turn one upside down so that I would have the aluminium side showing. I like the look of the aluminium with the copper.
This wreath is very light weight and will be a beautiful accent piece for my kitchen wall or sitting on top of my cabinets.
If you have any questions, feel free to contact me directly via my contact page or just leave a comment in the comment section of this post.
My daughter and I both gave this quick and simple project a big thumbs up!