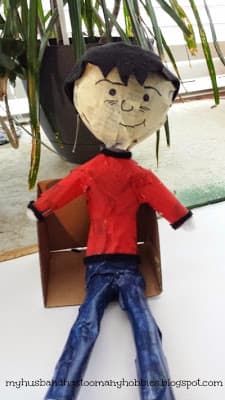 It's President's Day and I'm spending the day off with the kids and we had a book report to do.  Today we are sharing our creative book report project.
Look at our weather today!  So glad I'm home.  First real snow of the season and the kids are hopeful that their long weekend will be extended at least one more day.  We'll see . . .
My #2 son just finished his book report.   He has one major book report to do each quarter and the kids can choose from a long list of creative ways to do their report.   The first quarter report he did a poem that told the story of the book.  Last quarter he did a front page of a newspaper with articles about events in the book.  This quarter he made this paper mache sculpture of the main character in the story.
I had fun helping him by mixing the paste and offering "mom" support.  This sculpture will be presented in class with an oral report about the book.
We've never done paper mache before, but this turned out very cute so I thought I'd post it.  Mr. Hobby made a wire base for us with a hanger, we covered the wire base with batting and held it on with duct tape and then we mixed up a batch of paper mache paste  and cut strips of newspaper and went crazy adding strips to the form.     The head is a balloon that we covered and then later attached after everything was dry so that we could pop the balloon.
We let it dry overnight and then he painted it.  I helped him to add some black felt hair.   We drew on a face to match the cover of the book.
Have your kids gotten creative with their book reports this year?