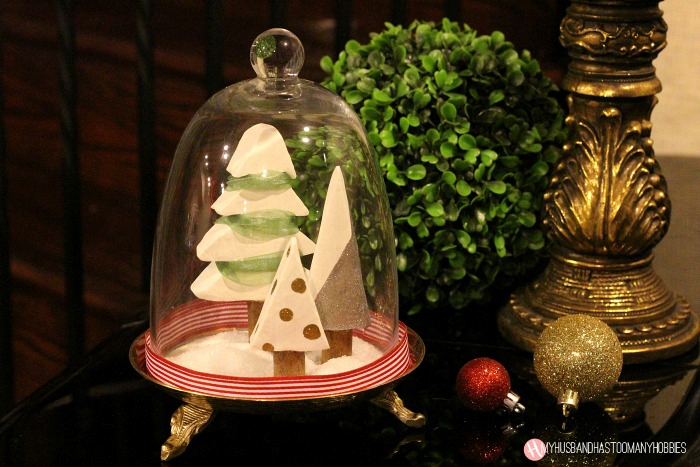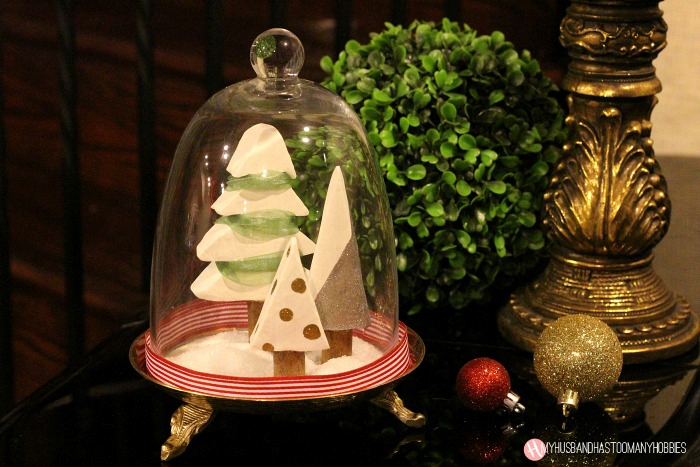 It's never too early to be working on Christmas projects because it's so much fun!   Today I'm sharing a Christmas Tree Cloche display made with Air Dry Clay.   This was a fun and easy project that makes a beautiful tabletop display for Christmas.
I bought a package of air dry clay a few weeks ago and shared how to make Air Dry Clay Stenciled Fish  and  Air Dry Clay Primitive Beads.  These DIY Christmas Trees are just as easy and fun to make.  I only have a little bit of clay remaining for one more Christmas project I have planned and can't wait to share with you.
How To Make DIY Christmas Trees using Air Dry Clay
Supplies used:
White Air Dry Clay
butter knife
wax paper
fine grit sand paper (I used 220)
dowel rod pieces (cut to size)
ribbon
paint
wood stain
Epsom salt
cardboard
hot melt glue
Roll out a thick piece of clay – thick enough to insert a dowel rod to be used as a trunk.  You could also use a tree branch for a trunk.   After I inserted the dowel rod, I used a butter knife to cut out simple tree designs.
When I was satisfied with the shape, I set them on a piece of wax paper to dry.  Because these are thick, it will take a few days to fully dry.  Mine took 2 days.  Every day, I turned them so that the opposite side would be exposed to the air to speed up the dry time.
The dowel rods were stained with wood stain.  I probably should have stained them prior to inserting them into the clay, but it was no problem to quickly stain them using wood stain and a cotton swab.  The trees were then sanded with 220 grit sand paper until smooth.  The two smaller trees were painted with silver and gold paint.  Later, I decided they needed some sparkle, so I added silver and gold sparkle glue over the paint.  I wrapped a ribbon around the other tree for  a simple decoration.
I cut a circle from a piece of cardboard and set the trees on it to decide on placement.  I marked where I wanted the trees to be with an 'x' and then drew an arrow to show which direction the tree would be facing.  I wanted to be sure of the placement before I glued the trees to the cardboard base.  When I was satisfied, the trees were glued to the cardboard with hot melt glue.
The brass base for my bell jar is actually a brass candle holder I picked up for a dollar at a thrift store.  It was the perfect size for my bell jar and makes a pretty cloche.   I set the cardboard on the base and then added Epsom salt for a snowy effect.
For a little more color, I added a red ribbon around the base of the jar.
These trees make a pretty Christmas display.
If you enjoyed this project, we'd love if you'd Pin it to share!  Thanks for supporting this blog!