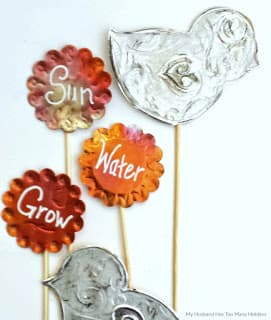 Hello!  Thanks for stopping by today.  Today I'd like to share how to make these beautiful, totally easy and quick Decorative Flower Pot Stakes.
I recently made some copper and aluminium flowers (see below). The only difference between these flowers and the one's I made first are that these are made with actual copper tooling foil as opposed to aluminium tooling foil that was tinted copper.
Below are the first flowers I made with the copper tinted aluminium, Copper & Aluminium Embossed Flowers.

Holding real copper tooling foil over a flame is a great way to add some different colors to the metal.  I used a candle flame. You must be careful because the metal gets very hot quickly, so use something to hold the metal – don't use your fingers!
Hand embossing a very simple design only takes a minute for these quick flowers.  Don't you love the color the heat gave the metal?
For the birds, I drew a pattern  on a piece of paper and transferred it to the metal.  I used an embossing folder to add quick texture.  These birds were lightly painted white and then dabbed with a paper towel to give them an antique look.
I also added a little black paint and dabbed that as well to antique them.   The wings are hand embossed, cut out and glued on with E6000 glue.
To finish the project, I attached the embossed pieces to bamboo skewers with hot melt glue.
If you are interested in learning more about metal embossing, be sure to check out the Metal Embossing Series for Beginners.
I just love these little plant stakes!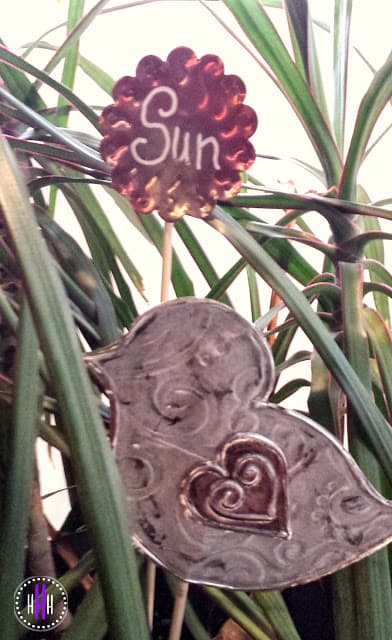 If you enjoyed this project we'd love if you'd Pin It!  Thank you for sharing!