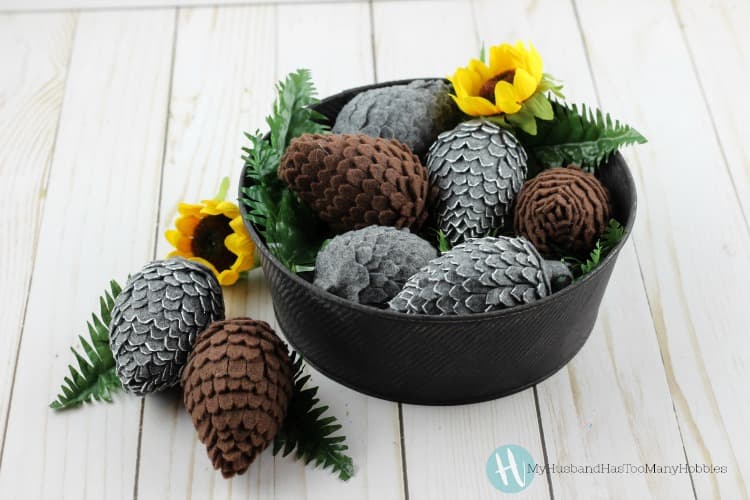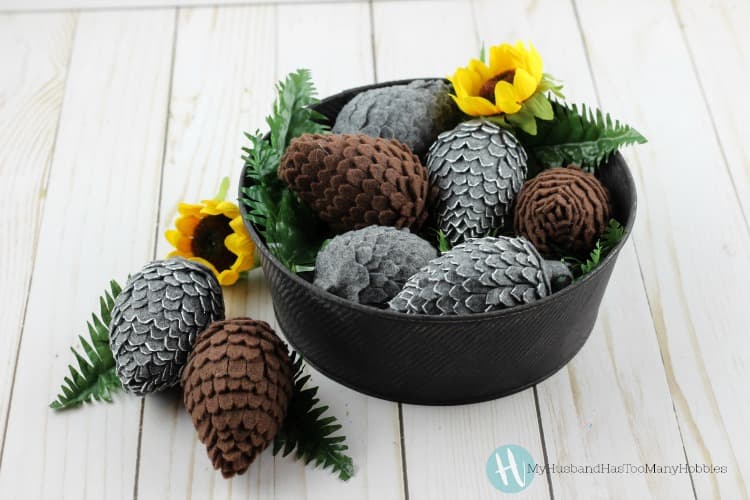 Pinecones make such a beautiful fall display, but what do you do if you don't have any pinecones available?  Why not make a few of your own.  We are sharing an easy tutorial on how you can make these fabulous pinecones for yourself.
DIY Felt Pinecones Tutorial:
Supplies used for this project:
Gray and brown felt
Scissors
White Puffy Paint or a paint brush and white craft paint
Scissors
Hot Melt Glue
Plastic Easter Eggs
Large leaves from silk flowers (optional)
Step 1:
Cut felt into 3/8th or 1/2 inch strips.
Step 2:
Doesn't the below image remind you of eye lashes?  No?  Well, that was my first thought after I added the picture to this post. Anyway, this image shows the progression of cutting and preparing the felt strips.  Note:  I used much smaller strips in this example.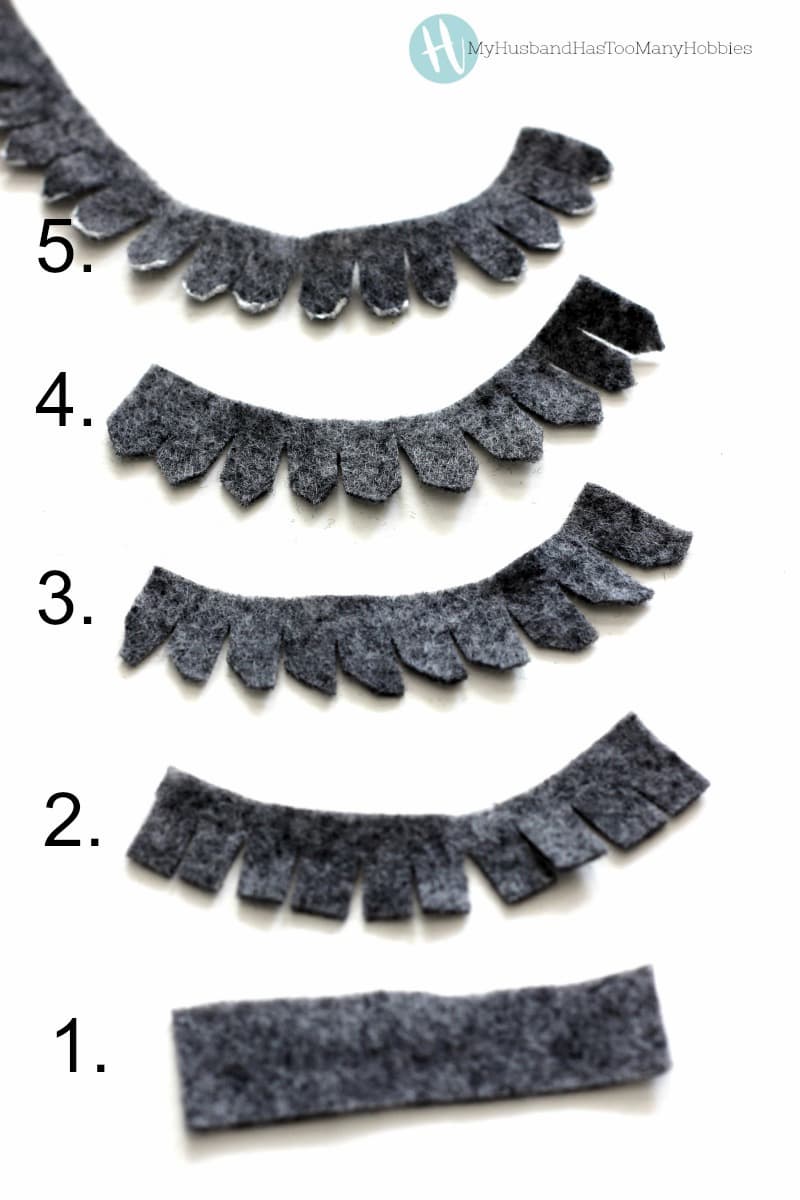 Basically, you want to cut fringe into the felt (image 2), then cut off one corner (image 3), and then the other (image 4), and as an option, color the tips with white puffy paint or craft paint (image 5).
The number of strips you need to cover the plastic egg will depend on the size of your felt strips, the size of the plastic egg and how closely you attach the strips to the egg.
Step 3:
Start on the smaller end of the egg and start attaching your strip with hot melt glue.
Keep winding and gluing the strip in a circular pattern.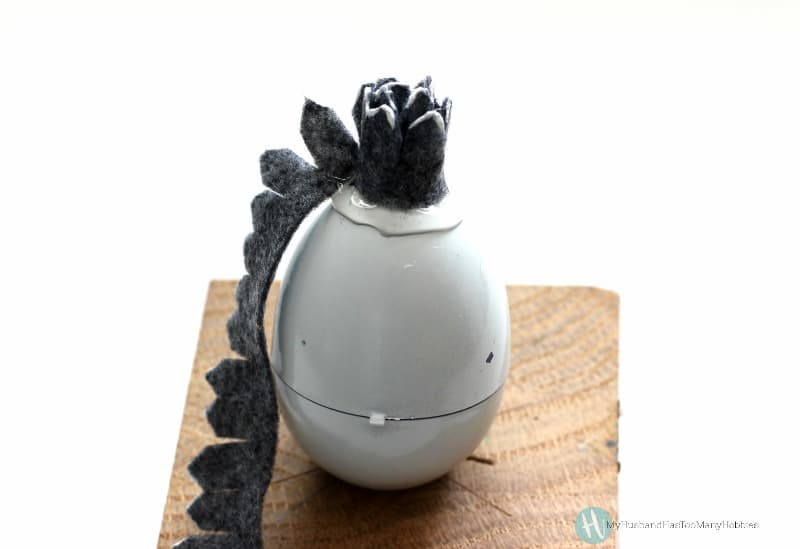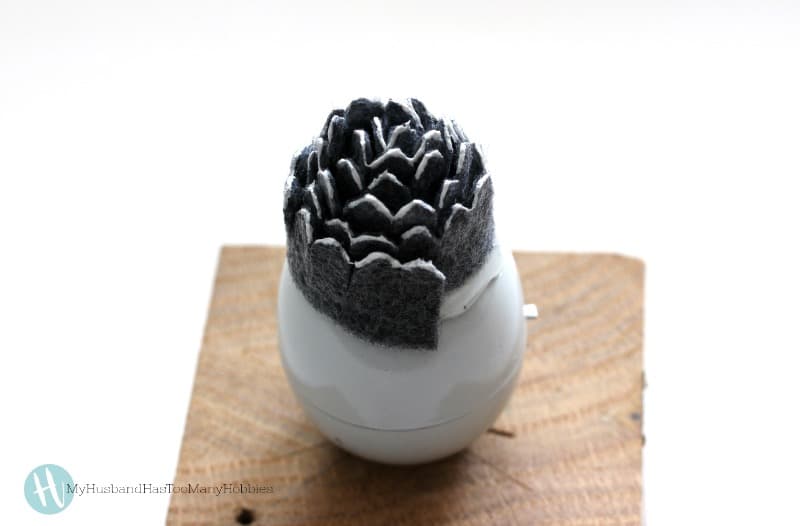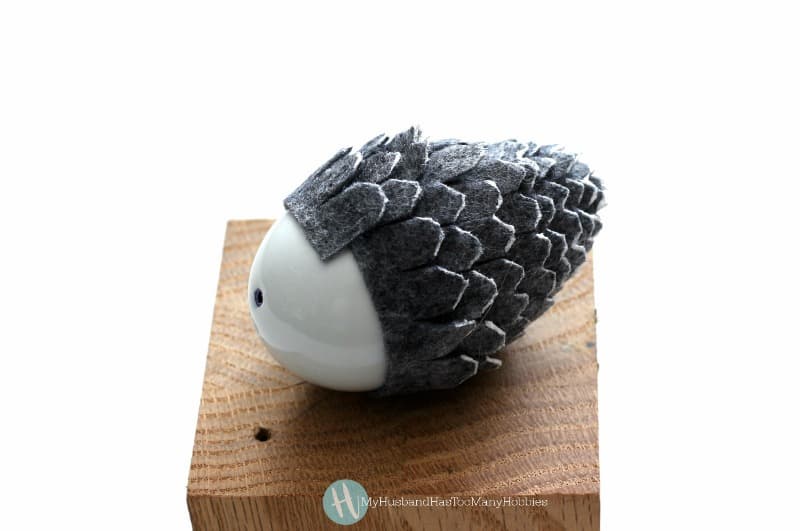 Step 4:
When the egg is mostly covered, you are ready to finish it off.  I made some acorns with loops for hanging and others without the hanger.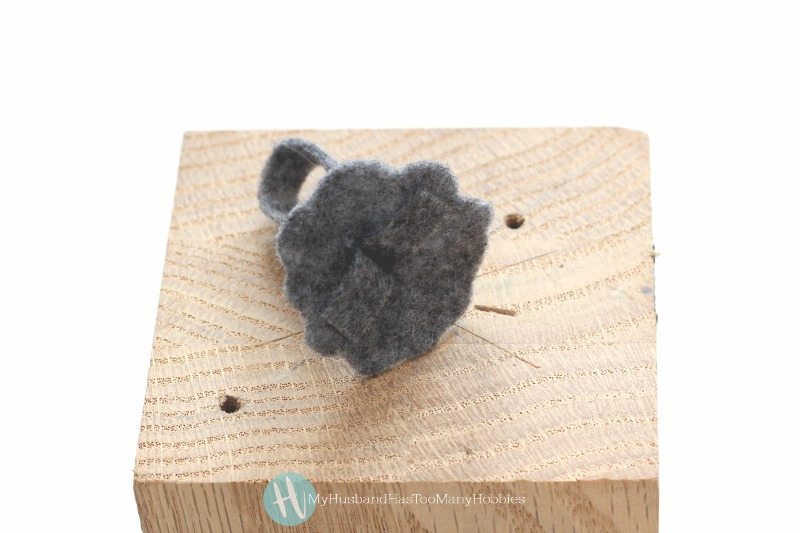 Cut a round piece of felt large enough to overlap the last layer and then cut a scallop around the outside of the circle.  Next, cut a slit in the center and insert a strip of felt for hanging.  Glue the strip to the scalloped circle, and then glued it to the bottom to cover the remaining egg base.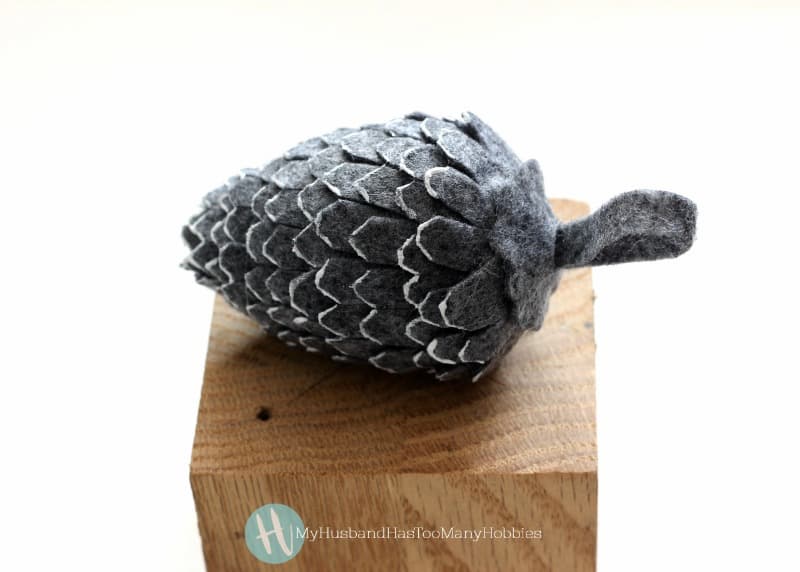 I made quite a few pinecones.  After I made the first one, I found it was much faster to cut and prepare all the strips before attaching them to the eggs.
Optional Step 3:
We needed some leaves to go with our pinecones for display, but I didn't have any leaves in my stash that were quite right nor did I have the color felt I wanted to use for the leaves.  To improvise, I made leaves out of a few leaves from flower stems that I had on hand.  It worked like a charm.
To make the leaves more pine-like, I simply fringed the leaves with a scissors.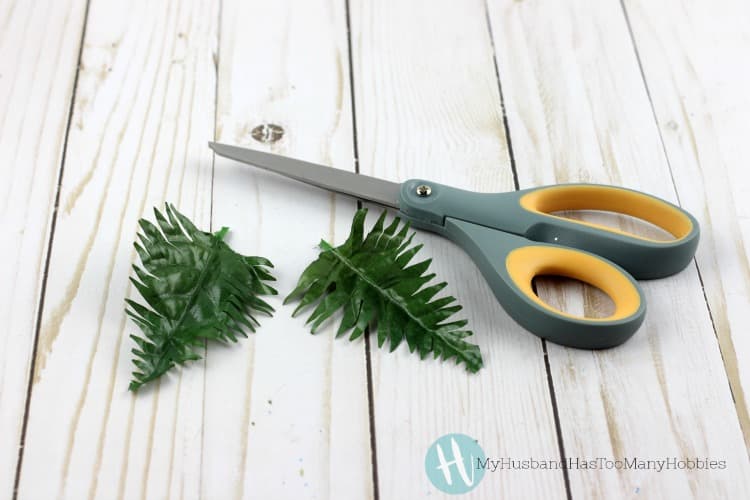 Be sure to remove a little leaf between the fringe.  To easily do this, think about cutting out small long triangles from the leaves.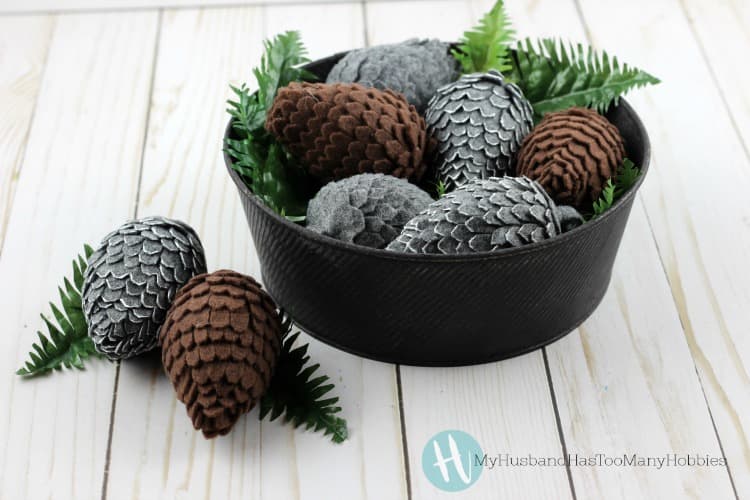 Display them in a metal tin or bowl like we did, or hang them.  They make a beautiful display for fall.
If you enjoyed this project, please Pin It to share.  Thanks so much for supporting our blog.