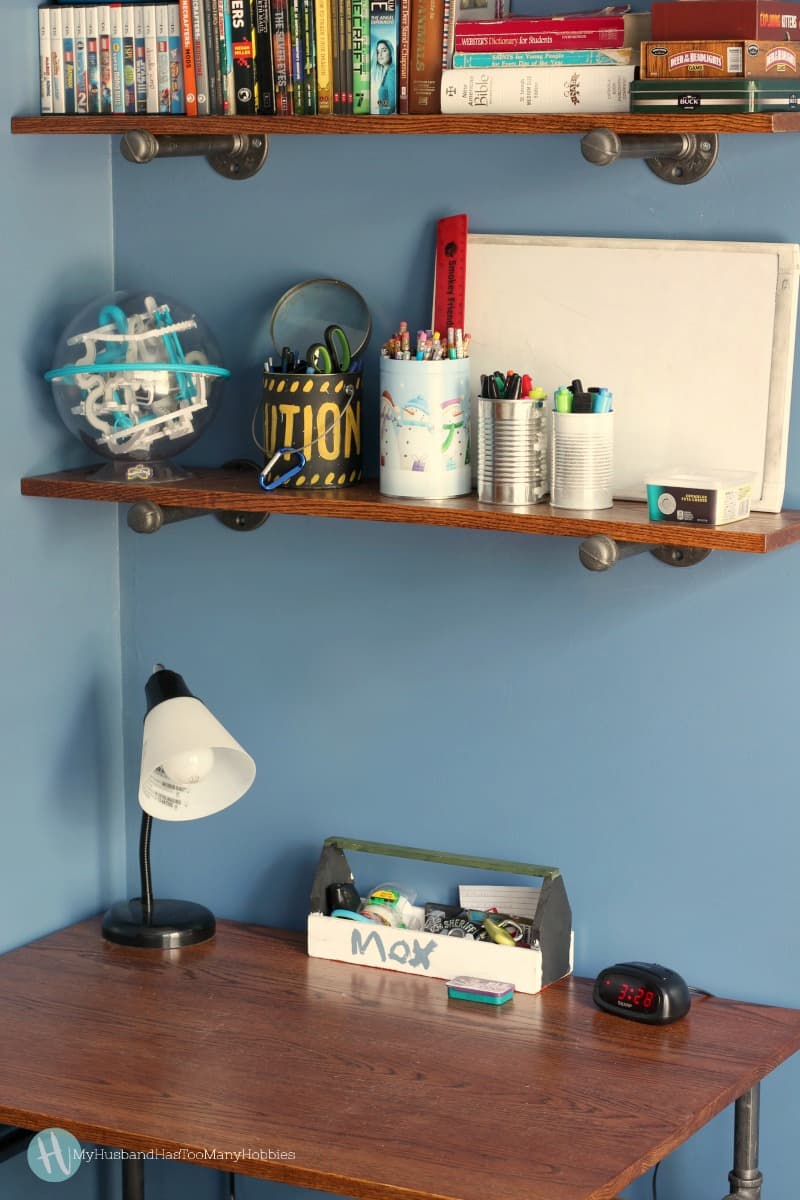 I love the industrial pipe desk and shelves I've seen all over Pinterest.   When we decided to re-do my son's bedroom, I told my husband we needed to give this a try.   My son had an old hand-me-down computer desk with an attached hutch that had seen better days.  It was large and took up a lot of space in his room.
My plan was to add a smaller desk that would give him enough work space for homework, and then add some shelving for his books and trophies.  I couldn't be more pleased with the results.
I'd like to say I DIY'ed this all on my own, but it didn't actually happen that way.   I felt pretty confident I could plan out the pipe that was needed, maybe even have the hardware store cut the boards to the size, etc.  But the reality is,  I explained to Mr. Hobby what I wanted and thankfully, he did the planning, purchasing and building.   I get points for the suggestion though, right?
We purchased flanges, pipe and end caps for the shelves and various sized pipe and flanges for the desk.   Mr. Hobby quickly put the pipe together for the shelves.   Because a few of the pipes were coated with a tar like substance, I cleaned them with acetone.  I read that some people spray paint the pipe black.   I decided to leave the pipe as it was because I liked the look of them.  I don't know if they will rust over time, but if they do, then I'll spray paint them.
Mr. Hobby screwed the pipe desk pieces together and made sure it was level.   Boards were cut for the shelves and desktop.  The desktop consists of three boards glued together.
The wood boards for the shelves and desk top piece were stained.  Actually, I was supposed to do the staining, but I got busy with other projects, so Mr. Hobby took care of it.
Our desk construction was very simple, but if you want a larger desk or desk with shelves, there are a multitude of styles on Pinterest to give you lots of inspiration.
We added a two shelves above the dresser for my son's trophies and other items for display.
We made three shelves to hang over his new desk.   This is such a great style for a boy's room that will easily be able to grow with him.    My son is happy with his new desk and shelves – so much so, that his room as been clean since we put these in several weeks ago . . .  makes me wish I would have done this a long time ago!
If you enjoyed this project, please Pin It!  Thanks so much for supporting our blog.