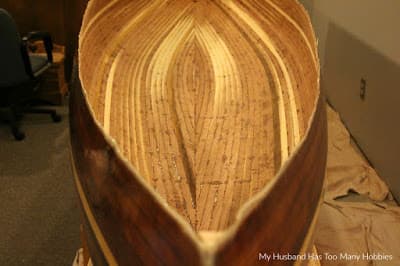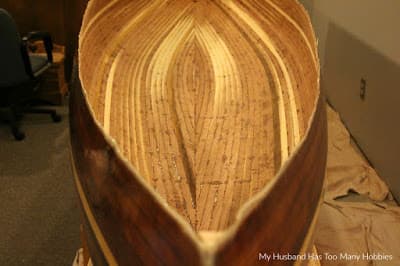 It's been too long since I have last updated everyone on the progress of the strip canoe.  If you recall in the last post, Mr. Hobby was working on adding fiberglass and epoxy to the outside of the canoe. Once completed and allowed to dry, the canoe was removed from the strongback.

The prepping of the inside of the canoe for the application of fiberglass and epoxy is the next step.
As you can see from these pictures, the glue that holds the strips together had run and dried on the inside of the canoe.   You can also see just how thin this canoe actually is.  Amazing. The fiberglass acts not only to strengthen the boat, but to waterproof it as well.
While working on the outside and gluing the strips together, Mr. Hobby scrapped off the dried glue as he added each new strip, however, it was impossible to get to the underside/inside while he was working on the outside.
So you can see there is a lot of scrapping that needs to happen before the fiberglass and epoxy coats can be added.
It will take a few hours of scrapping to remove all the dried glue.
It you are following along and enjoying these posts, we'd love if you pin it.  Thank you!
You can see all posts on this project [ here ].