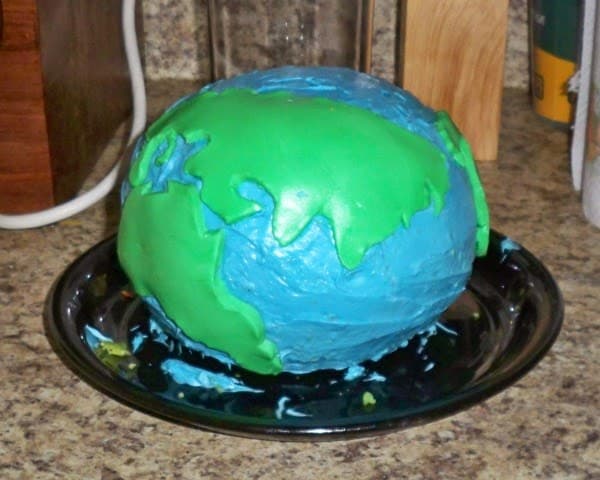 My #1 daughter made a very special birthday cake for her significant other.  He is a Geology major, hence the idea for the earth cake.
My daughter found a blog post with the a recipe for an earth cake  here .
(This woman's cake was simply amazing!)
My daughter came to my house to do a trial run of making half the earth.  The recipe was a little challenging due to the fact that some of the measurements were metric.  Luckily my daughter has a science background and she was able to convert the measurements pretty easily.
The interesting thing about this cake is that you bake 3 different cakes – one at a time to simulate the inner layers of the earth.  Each  layer is inserted into the middle of the batter for the next layer and baked.  With 3 core layers of the earth, that is a lot of bake time.  It is also interesting that the cake is baked in different size bowls to get the sphere shape.  To make the entire world, you end up baking 6 cakes – 3 for each half of the earth.
I was skeptical as to how the cake would taste with all that baking, and was surprised at how delicious it was.
We iced the half earth trial cake and tried to draw some continents on it with a squeeze pack of icing. That didn't work out so well because it just slid down the side of the cake.  We decided that fondant would be a much better choice for the continents on the next one.   We called the trial a success.
A few weeks later, my daughter arrived for the making of 'THE' cake.  She had an extra set of bowls so that we could bake both halves of the earth simultaneously.  I was grateful as we were starting this process at around six in the evening on a Friday night.
We mixed and baked the inner layer, and for whatever reason, it did not turn out like our trial run. We decided to give it another go, and mixed and baked a second batch.  Thankfully, this one turned out just fine.
We baked all three layers – and by this time it was getting pretty late.  Then my daughter pulled out a recipe for homemade fondant.   I don't know if you have ever made fondant, but its made with melted marshmallows, butter and powdered sugar.  The marshmallows are melted with the butter and then you are supposed to kneed this sticky mess while adding powdered sugar.  It was pretty comical, but eventually, once enough powdered sugar was added, it seemed to be working.
Here is 1/2 the earth.  She had just finished leveling out this 1/2 in preparation of putting both halves together.
Finally, in the wee hours of the morning, we called it a night.  The fondant needed to chill in the refrigerator for several hours anyway.
The next day, I had to go to work, so my daughter took the cake to her house to put it all together and finish. She had to transport this cake a little over 100 miles to where her boyfriend is currently attending college to finish his Masters degree.   I wasn't sure how well a round cake would travel in a car, so I gave her an empty popcorn tin to use as a cover in the hopes that if the cake did roll, it wouldn't be going far.
Here are the 2 half put together with icing in between
Later in the afternoon, my daughter sent me pictures of the finished cake before she packed it up to transport.
cake iced with blue icing to simulate water
Here is the fondant cut into continents
It really turned out great.  I have to say, it was quite a process, and I don't think I'd want to do it again.  But what a wonderfully thoughtful thing to do for someone you love.
Once again, the finished masterpiece!
What kinds of things have you done for your loved ones that took more than an average amount of effort?