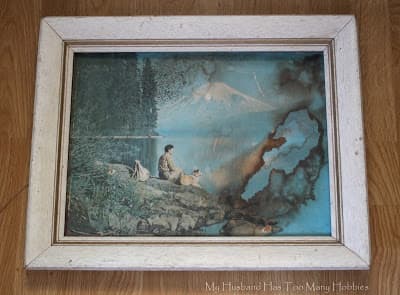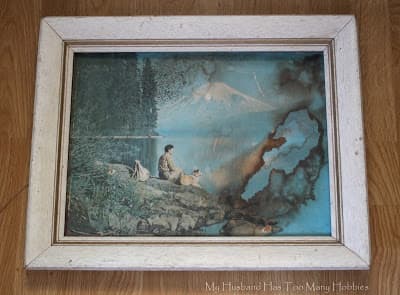 Who doesn't love a quick and easy project?   We'll show you how to update a tired old picture frame in this Easy 15 Minute Frame Makeover.  Of course, the 15 minutes does not include the drying time. . .but still, 15 minutes of work to go from ugly to beautiful!  I purchased this ugly picture at a flea market recently for .25.   The picture was water damaged, but the frame had potential.
This frame and a few others that I picked up were added to my 'To Do' project list.   And there they sat for a couple of weeks until I was cleaning my son's room one day and stumbled across a forgotten box of Mardi Gras beads.  I knew this is just what I needed for this frame makeover!
Project Details:
I grabbed my hot glue gun and pulled out some white beads from the box.  This was no easy task as they were in quite a tangle.  Probably took me longer to separate out the beads I needed than to complete this project.
From my paint stash, I choose two bottles of chalk paint and a couple of paint brushes.
Working in 3 inch sections at a time, I ran a bead of hot glue and attached the beads.  I used slightly less than two strands of beads for this frame.
Next, using my hot glue gun, I quickly drew some 's' swirls around the edges.  They aren't perfect, but then, neither am I.  Shhhh . . .don't tell my husband.    I was more than okay with how they turned out.
I gave the frame a quick coat of paint using the Chalk paint.
The frame was looking pretty good and would have been fine to leave it at this point, but I wanted to try a little bit of distressing.
Using the other Chalk paint, I took a small paint brush, dipped it in the paint and them rubbed some of the paint off and then very lightly went around the frame adding a touch of the color.
I love how this turned out!  And it was so quick and very easy!  I think it took me longer to put this post together than it did to complete this project.
And there you have it.  15 minutes from ugly to beautiful!   What do you think?