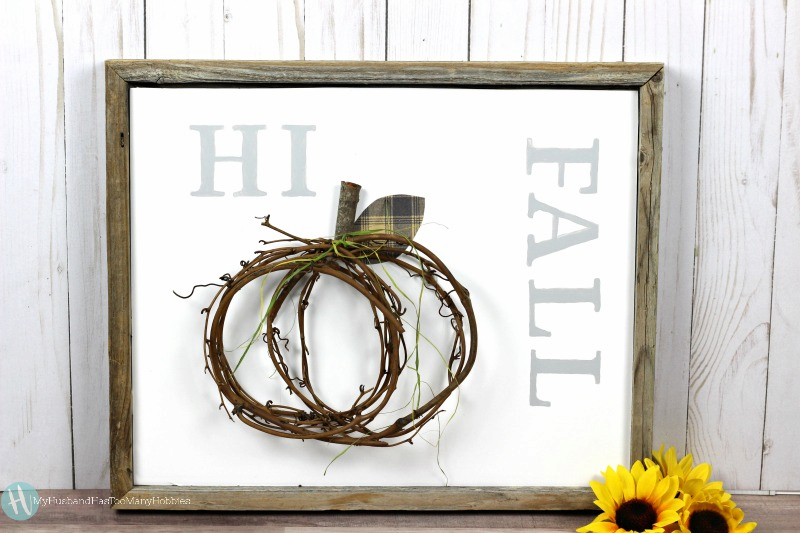 ---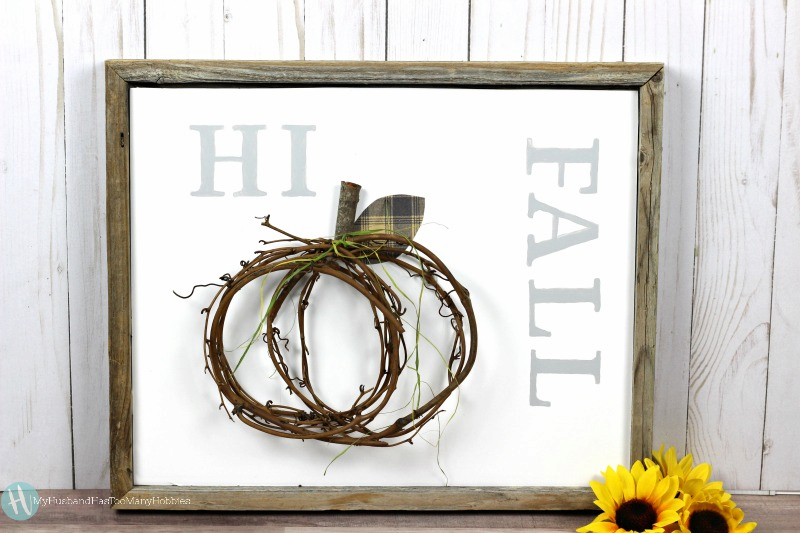 Do you love farmhouse style signs as much as we do?  Today we are sharing a super easy way to make your own farmhouse sign for fall.  We used a picture frame that we already had, and turned it into this awesome sign for fall in well under an hour.   You can too!
Tutorial for Easy Farmhouse Fall Sign:
Supplies Used:
Picture Frame   (We got ours at Hobby Lobby earlier this year)
White Foam Board
Small 6″ grapevine wreath  (we got ours at Dollar Tree)
Stick for a stem
Fall craft paper for leaf
Green Raffia
Alphabet stencils  (we got ours at Wal-Mart)
Gray Paint
Box Cutter or craft knife
Scissors
Hot Melt Glue & Glue Gun
We used a picture frame that we had and cut a piece of foam board to sit right on top of the glass in the frame.  The fun thing about this project is, you can swap out the foam board and make countless signs with this method!
We used a small 6 inch grapevine wreath.  Notice how the wreath is held together with a wrapped piece of grapevine?  All we did was cut and remove that wrapped piece.
Once the wrapped piece was removed, we just pulled the remaining pieces apart to form our pumpkin.
You don't need a fancy machine to cut stencils, we used a package of cardboard stencils we picked up at Wal-Mart a couple of years ago.   We positioned the letters on our foam board and just traced them with a pencil.  Then we filled in the letters with chalk paint.
We inserted the foam board into the picture frame, right on top of the glass.  Our foam board is a nice tight fit.  If your's is not tight enough to hold, then put a drop of hot melt glue to hold it in place.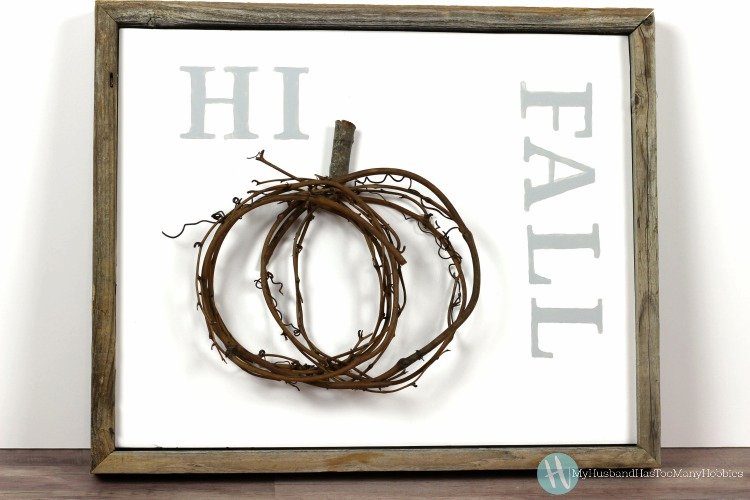 Next, we cut a stick to use for a stem and attached the grapevine pumpkin and stick stem to the foam board with hot melt glue.
I found a scrap of paper that I liked and cut out a leaf.   The leaf was attached with a dot of glue.   I tied a small amount of green raffia ribbon on the grapevine pumpkin to finish it off.
Hang it on the wall, or display it on your mantel.  Either way, it is an easy way to add a little Farmhouse charm for fall!
If you enjoyed this project, please PIN IT!  Thanks so much for supporting our blog!