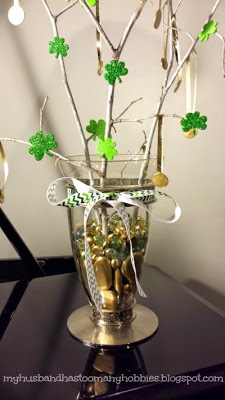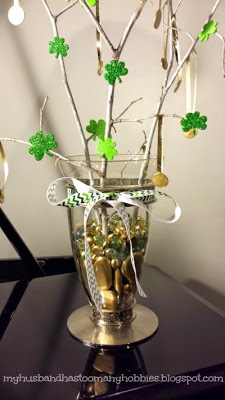 Today we are sharing a simple St. Patrick's Day Craft.  The St. Patrick's Lucky Penny Tree is not only inexpensive to make, but I had everything on hand with the exception of the shamrocks which were picked up at the dollar store.
I spray painted a few rocks and vase filler beads gold.   I had a few light green filler beads and I threw them in the mix and added them to a vase. Got to have a pot of gold, right?
I found some branches in the yard, and gave them a light spray with white paint and arranged them in a vase.  Then, I spray painted a few pennies with gold spray paint and hot glued gold curling ribbon on them in order to have something to hang them with.
Next, I hot glued the shamrocks directly on the branches.
Finished the look off with a cute ribbon.  Quick, easy, fun!
The tree looks gorgeous and festive sitting on the piano.  Are you getting your craft on for St. Patrick's Day?
Wishing you all a happy and safe St. Patrick's Day and thank you for visiting!