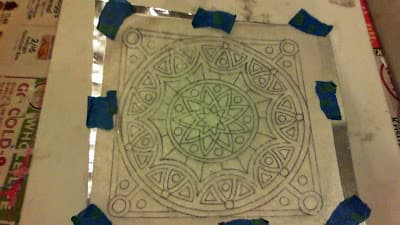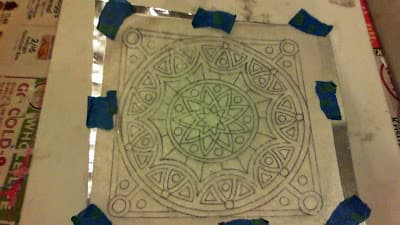 I'm playing around with a few different ideas for the embossed design on my newly painted bookshelf. The cabinet door panels on the bookshelf are recessed and perfect for adding some beautiful embossing!
I found this pattern and decided to give it a try:
I traced the pattern onto a piece of metal:
I had to decide which parts of the pattern I wanted to raise in the metal. I want to cut out some of the metal in the design so that the cabinet door will show through. This is the embossed piece as it stands right now:
I haven't done any of the cutting yet, and I'm playing around with the idea of possibly adding some gems into the design. Here is a picture with a few of the gems just laid on the embossed piece. What do you think?
I will be making at least 3 of these embossed designs for each cabinet door. I will be starting with the same pattern on each one, but will likely change it up a bit and emboss them a little differently so that the cut out areas are different as well. I think that will add a little more interest to the finished project.
The same pattern was used for all three pieces, however each one was embossed differently.Here are three embossed pieces for the cabinet door project.
I have started the cutting out process. Here is the first one with the cut-outs. Each piece will be cut differently.
These pieces still have plenty of work to go. After cutting out the other 2 pieces, I'll need to fill in the back of the designs, put a finish on the metal to give it the look I want, attach the gems. . . and finally attach them to the cabinet door.
The cut-outs are completed for the first 3 pieces!
I am always happy when the cutting part is finished. It is not one of my favorite parts, but when I'm finished and see what a difference it has made, I know it was worth it!
Here are the individual pieces. Not sure which one is my favorite yet . . .
Next step is underway . . .I have filled the back of each embossed design.
These have been filled with regular Elmer's glue. It is an economical choice and should work just fine for this project. The glue will shrink as it dries, so usually I'll fill more than once.
After the glue dried, I put a finish on the pieces and it did not turn out how I wanted.  So I decided to start over, and this time I embossed the three designs on one piece of metal. This should be much easier to attach to my cabinet doors.
Thank you for stopping by today!