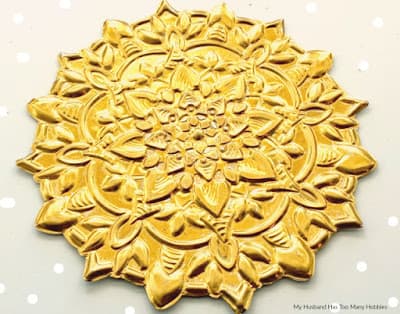 I have been pretty busy at work these last few weeks so I have been unable to post anything new. Thankfully I had a day off today and I couldn't think of a better way to relax and enjoy myself than pulling out some metal and embossing something. . .anything.  This beautiful gold mandala is embossed using easy metal embossing techniques.
I recently purchased a roll of gold-plated aluminium and it was finally time to give it a try.
I printed this pattern from on-line:
One of the things I love about embossing is that one pattern can have many different looks depending on how you decide to emboss it.
Unfortunately, I was having so much fun finally being able to actually work on a project, that I failed to take additional pictures of the process for those who may be interested.  I'll try to do better next time.
Not sure if I will attach this work to something or put it in a frame.   It is about the size of a small salad plate.  But no doubt, I will find the perfect place for it.
Happy Crafting!