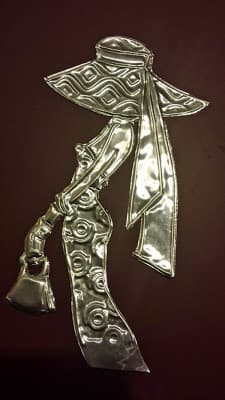 I finished the Embossed Elegant Lady for the Metal Embossing Series and just had to show her off.
Information on the how-to for this project can be found in both the 3rd and 4th installments of my Mini Series on Metal Embossing Basics or by clicking here:  Embossing Using Stencils  and  Adding Color to Metal
This project is a great example of crafting using metal and stencils for texture.
Pin It!
I love using stencils in my work.  This little project took just 10 minutes to emboss and another 15 minutes to cut out and color.  Amazing what you can accomplish in under a half hour!