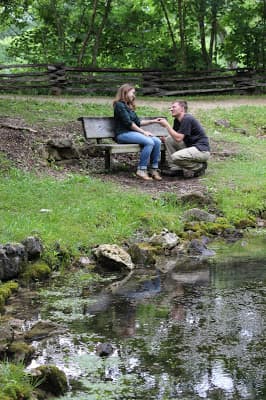 My oldest daughter is recently engaged!  Over the weekend, my other daughter showed her awesome photography skills by doing an engagement photo shoot for them.
My daughter and her fiance are very active people.  They do aerial swing dancing, rock climbing, cave exploring among other things and my future son-in-law is a volunteer firefighter as well.  As you can see, multiple hobbies run rampant in my family!
They spent the entire day on Sunday, between rain drops, getting some of the most awesome pictures! Photo shoots were set up at the firehouse, in a cave, at the train yard and some beautiful shots outdoors by a creek and the mill-pond where the proposal was made.
I thought I'd share a few of them with you.
I love the serenity of this silhouette taken in one of the caves these two gave tours in for a few summers.
They make such an awesome couple and we are so very happy for both of them!