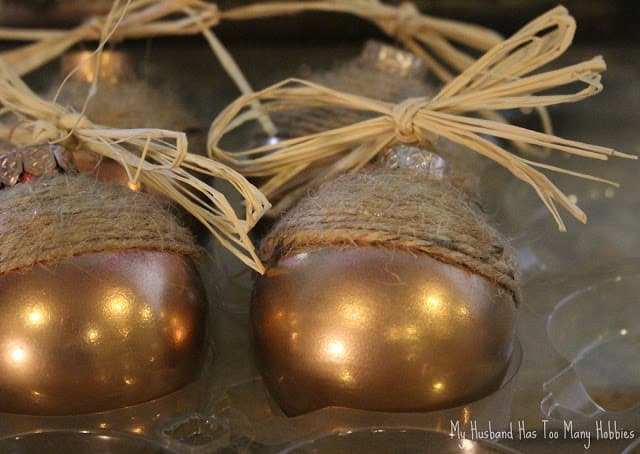 Once school starts, my crafty mind starts thinking of fall projects.   Not only are these fall acorn ornaments awesome and totally easy to make, they can be used in so many different ways. Hang as garland, attach to a wreath,  or display in a bowl.
Supply List:


Glass Christmas Ornaments
Copper Metallic Spray Paint
Hot Glue Gun
Twine
Raffia Grass
Remove the top hanger from the ornaments and spray paint the ornaments, tops and wire with copper metallic spray paint.   I left them in the tray which made them easier to paint.
Spray the exposed ornaments, wait until they are thoroughly dry, flip and spray the underside and allow to dry.
Put a dab of hot glue at the top of the ball and start wrapping with the twine.  Every so often, apply a little dab of hot glue and continue to wrap until you are satisfied with the amount covered.
Attach the hangers and tie on the raffia into a bow.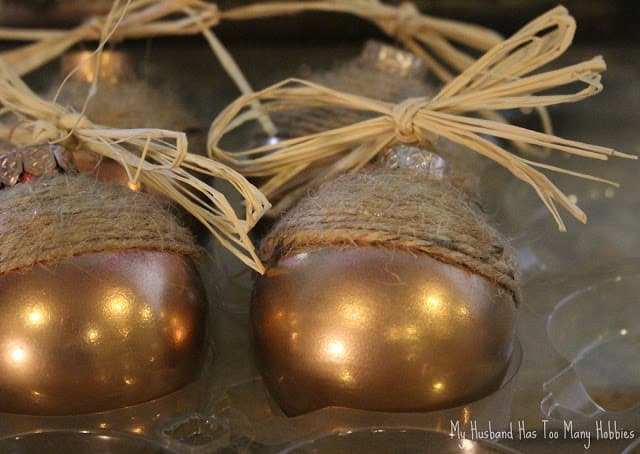 Now, get creative and decide how you want to display them.
As you can see, I decided to display mine in a bowl with fall leaves.
I could see these as part of a banner with the word "Fall" written on them, or hanging from the staircase banister.  .  .  they'd probably look pretty good on the Christmas tree too.
More ideas for these could include gift bag embellishments and additions to fall flower arrangements,
Do you have an idea of how you would display these?  We'd love to hear it, just leave a suggestion in the comments below.
Thank you for the visit!