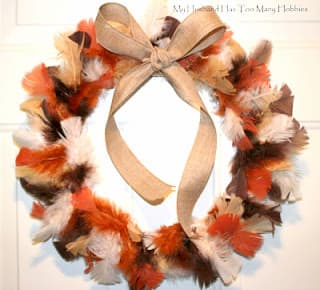 Fall is my favorite time of the year.  I love all the wonderful fall crafts!  This Fall Feather Wreath is budget friendly, easy to make and a beautiful addition to any fall decor.
A few days ago, I shared my Fall Feather Tree.  If you missed the post, you can see it here.  I like the idea of the feather tree and I've seen a lot of them in the stores lately.  I'm just not sure it works so well with the fall colors.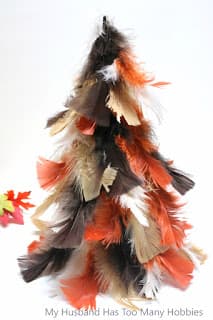 The feather tree was incredibly easy to make, but I only wanted one and I had a nearly full bag of feathers left over.
Using the remaining feathers, a Styrofoam wreath form, and my trusty hot glue gun, I created a beautiful Fall Feather Wreath in about half an hour.
The wreath form that I used had been used for several past projects, and it had seen better days. It was cracked and had several gashes in it.  A piece of duct tape solved the problem of the break, and a fresh coat of gold spray paint covered it pretty well.  I was unconcerned about the gashes because I knew the feathers would cover it well.
Start by attaching tan feathers to the form randomly with the glue gun.
Next, add the rust color randomly.
Add white feathers next.
Followed by the brown.   After the brown feathers were attached, I added in various colored feathers to fill in any remaining gaps and I put a row of feathers along the inside edge to cover the points of the feathers previously glued.
I searched around in my stash of ribbons to make a bow, and I found a piece of burlap ribbon, which really wasn't long enough to make a fuller bow, but it works okay until I can get more ribbon.
As you can imagine, the wreath is lightweight and hangs easily on the door.  It will be a lovely welcome for my fall guests.
Hope the beautiful fall weather has found you!