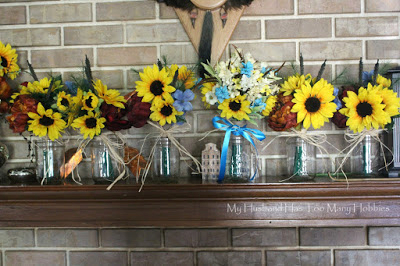 I was delighted when my daughter happily consented to my offer to make the wedding bouquets for her upcoming wedding. My last experience with this task was nearly 30 years ago, when I made bouquets for my sisters weddings.  Styles have sure changed over the years.
My daughter showed me several Pinterest pins she had saved so that I could get an idea of what she was looking for. Sunflowers were to be the main flower in the bridesmaid bouquets and she wanted something simple for her bouquet, but wanted to tie them all together.
I was thankful she was okay with silk flowers so I could make them early.  I know we will have a lot of last-minute tasks to worry about.
We are both very pleased with how these have turned out.    Less than 30 days to go. . . and tasks are getting done.  I have no doubt that this is going to be a beautiful wedding!