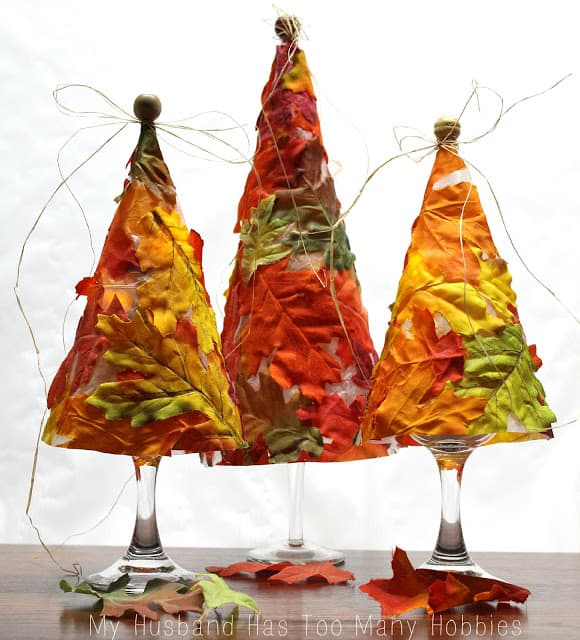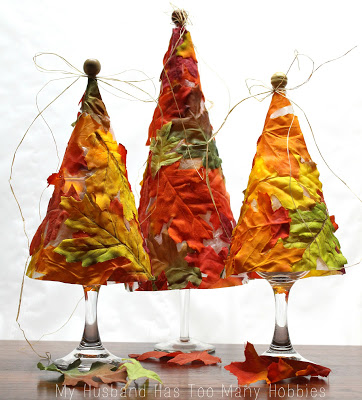 With Thanksgiving a little over a week away, I thought this would be a good time to share these beautiful Leaf Tree Luminaries.  These would look great on a mantel, shelf, or as part of your Thanksgiving Centerpiece.
With a few supplies from the dollar store and some supplies you may already have at home, you can create these fun little Leaf Tree Luminaries.
Supplies Used:
Wax Paper
Leaf Garland from Dollar Store
Modge Podge
Paint Brush
Scissors
Hot Glue Gun
Wooden Beads
Raffia
Wine Glass
Battery Operated Tea Lights
Cut leaves from the garland. Strip off the plastic leaf veins. They pull off pretty easily.
I pulled off all the plastic veins.
Tear off a sheet of wax paper approximately 8×10  and lay on a protected surface.
Coat the wax paper with Modge Podge.
I worked in sections.
Attach leaves in sections as well.
Continue to fill the sheet.  Over lap the leaves but leave some space in between to let the light shine through.
When the sheet is covered, use a small amount of glue on your paint brush and where the leaves overlap, apply a little glue to the underside of the leaf and attach to the leaf below.
It is okay if the leaves don't lay flat – we'll fix that.
Tear off another sheet of wax paper to lay on top and cover with books to weigh it down.
After a couple hours, remove the books and the top layer of wax paper.  The leaves should be flat now.
Removing the wax paper on top allows it to finish drying.
It will take several hours to dry depending on how much glue you used.  I let mine dry overnight.
After it is fully dry, you can roll and cut into a cone shape.  Using hot glue, I glued the edges. Trim the bottom of the cone so that it is even and will sit upright in a cone shape.
Grab a couple of wine glasses and fill them with little battery operated tea lights.
You could also use a strand of battery operated lights stuffed into the wine glass.
To Finish the tops of the cones.  I hot glued a wooden bead and tied a raffia ribbon bow.
Set the Leaf Tree Cone over the wine glass.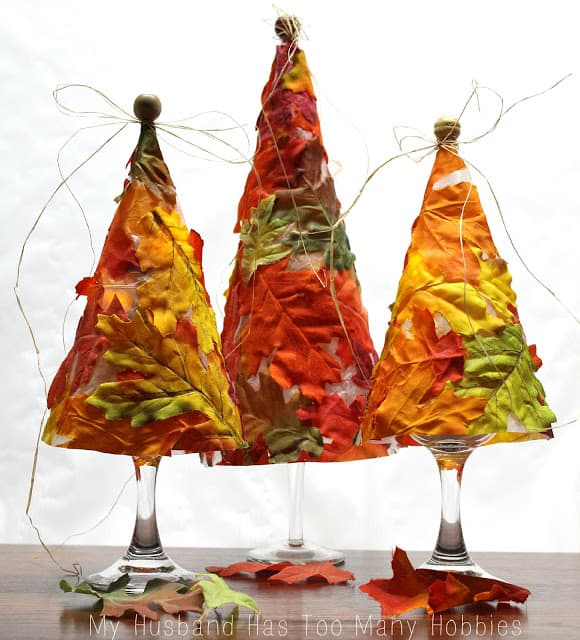 In low light, they have a lovely glow.
I hope you and your families have a wonderful Thanksgiving!