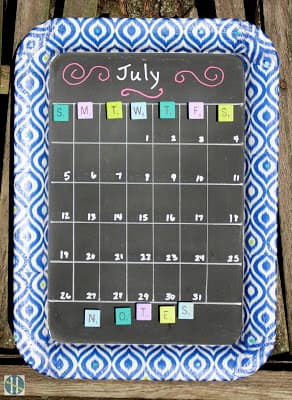 Hey, thanks for stopping by!  If you need a calendar to help you stay organized, we have a wonderful up-cycle project to share with you today with our Magnetic Memo Board.  I found this inexpensive metal tray at the antique mall and thought this would be perfect for a  up-cycle.
Project Details:
I considered painting the tray, but then I found some cool patterned napkins and decided to try my hand at Mod Podge.  I knew the dark color would show through the napkins, so I spray painted the entire tray white. The outside edges received an extra coat.  The center would be painted with chalk paint, so I wasn't really concerned with the coverage of the white paint there.
To apply the napkins, I first painted one side of the tray top and under the lip of the backside with Mod Podge.  Then I carefully laid the napkin on,   Using a paint brush and water, I smoothed out the wrinkles as I went until I covered the 4 sides of the tray.  Then I applied a thin coat of Mod Podge over all the sides being careful not to cover the middle section of the tray.   In hindsight, I should have covered the rounded edges first, but I think it turned out okay anyway.
After the Mod Podge dried overnight, I used a metal ruler and a razor blade and I trimmed off the excess napkins.
Tape the sides and spray paint the center with chalkboard paint.
It took 3 light coats of the chalk paint to cover and it gave me a nice smooth finish.
Allow it to dry overnight.   I used a white paint pen and drew on lines for a calendar.   I used a ruler to measure the distance between my lines and I used a piece of foam board as my straight edge to draw the lines.
After the lines were drawn on, I used a piece of chalk to prime the chalkboard.
To finish off this project, I used Bistro Chalk Markers to fill in the calendar Month and numbers for the days.    I attached magnets to the back of some scrabble tiles I had and then painted them colors of my daughters choice.   She can use these scrabble magnets to easily attach memos to her board.
Using E6000 glue, I attached a wall hanger to the back of the board.   Finished!
This was such an easy project and I'm happy to use the Mod Podge that has been sitting in my craft supply box for years!  The best news is my Daughter will be happy to hang and use this in her new apartment!