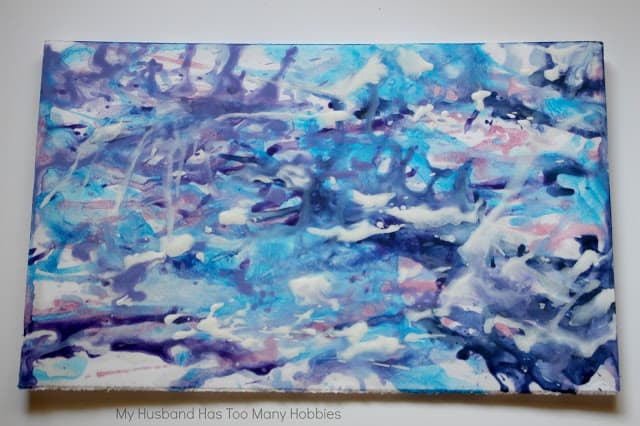 Every year when school lets out, the kids lug home the last vestiges of another successful school year. As I empty the backpacks of long forgotten snacks, broken pencils, chewed erasers and scraps of paper, I always find myself saving the used crayons.  With 4 kids who have completed a total of 34 grade school years amongst them, I have a lot of used crayons!  I decided it was time to try my hand at melted crayon art.  Have you seen these on Pinterest?  They are really cool.
The process didn't look hard at all and with a few supplies (crayons, hair dryer and a canvas), beautiful art was just begging to be made!  I mentioned my intent to Mr. Hobby, who promptly produced a heat gun from a past hobby of his own – building radio controlled model airplanes.   Perfect. Seemed like the stars were lining up nicely for my crayon art masterpiece!
I should put a caution in here that melted crayons = hot wax, so this is not a project for young children or even older children unless they are closely supervised.
Before you start a craft project that is new to you – do you research it?   To be honest, most of the time I just jump in with both feet and figure it out as I go.   (I will qualify that by saying if I'm investing a lot of money into the project, I am all over that research!).   This project was a jump and see because it seemed so . .  well . . .simple.
My daughter happened to be home and she decided to join me make one of her own.  It is always fun to have someone to share a craft project with!
My vision was to produce a random pattern with areas of color using greens, blues and greys with a little gold and see how that went.   I picked out a few crayons in colors that I liked and chopped them up with a butter knife, so I could lay out the colors across my canvas where I wanted those colors to be.
My daughter decided to do a color block.  She used painters tape and blocked off sections of the canvas and then she shaved off small pieces of the crayons in her desired colors and set them on her canvas.
Because we only had one heat gun, and because I was finished chopping up my crayons before her, I used the gun first.   Let me just say – chopping up the crayons is not the best way to do melted crayon art.  The little pieces are light – and the heat gun just blows them around or totally off your canvas.
If you are careful and hold your gun higher to produce less blowing, the crayons do melt, but I found the colors just all run together and blend.
Not what I was going for at all, so I ended up taking a yellow and white crayon and I just held them under the heat gun nozzle and let the wax drop on the canvas, and then I blew those drops around on top of my canvas to spread them out.
Needless to say – it was a learning experience and we are fast learners.  For my daughters canvas, we knew that blowing the hot air on top of that canvas was going to blow all of her tiny crayon pieces right off.  So, we elevated the canvas and heated it from the bottom.  This actually worked pretty well.
In the end, our projects did not quite turn out like we had originally envisioned, but we liked them anyway.  I can say we had an excellent time making our crayon art and I'm looking forward to doing it again now that I have a better understanding of what to expect.
Here are our finished pieces.
Here was another that I did using different colors and this time not chopping up the crayons before hand.  I used a light blue, purple with a little pink and white to create this one.
I started by holding a crayon just above the canvas and melted a pool of color on the canvas and blew the color around a little.
Then using the a purple crayon, I did the same thing.
This was a much easier way.  Even if the wax started to dry, reapplying the heat with the heat gun allowed me to reheat, melt and blow the color in whatever direction I wanted.    I added in a little pink and then using white, I melted a few drops here and there and with the heat gun blew it around in different directions to either blend or add contrast.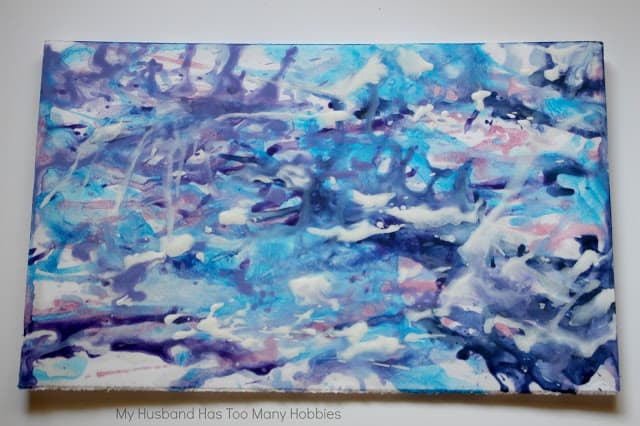 Here is the finished piece.  I think it has a lot of interest in it.  Spray with a clear top-coat to finish.
The green art was my favorite and deserved to be framed.   Just have to decide where to hang it !
You may think you need some artistic talent to do this, but I assure you, you do not.  The crayons and heat gun do all the work!
Yup, I've got a few more ideas on how to better control the melted crayon wax to accomplish a different effect . . .but that will have to wait for another day.