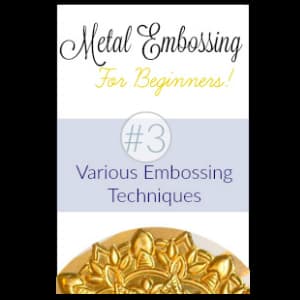 Thank you to all who have shown an interest in this little series.  Today I would like to share the techniques used to emboss metal for craft projects and for more detailed art type pieces.
There are many craftsmen and artists out there who create incredibly beautiful embossed pieces, however, it is not necessary to have a lot of artistic talent to do metal embossing. The use of patterns and stencils allows nearly anyone to create beautiful projects with ease.
Keep in mind that I am no expert, and I am passing on what I have learned and what works best for me.
Work Surface:
For most embossing projects, you will need a soft surface and a hard surface to emboss on.
I use a rubber pad for my soft surface (alternatives include:  a piece of suede, leather, a magazine or a small stack of newspapers).
I use my craft table as the hard surface.
Caution:  Metal sometimes has sharp edges, so you may want to protect your surface if you are worried about scratches. You can lay down a piece of newspaper or a sheet of poster board.  You don't want to over do it or your hard surface will become another soft surface.
Fundamentals:
Find a pattern that you want to emboss and cut a piece of metal that is slightly larger than the pattern. Attach the pattern to the metal with a couple of pieces of painters tape so the pattern doesn't move around while tracing.
Place metal with pattern side up on a hard surface.  Using a Teflon stylist tool, press firmly and trace the pattern on the paper. When you are finished, remove the paper and you should see the pattern transferred onto the metal.  The side that has the transferred design is the Front side.
Next, look at your pattern.  Decide which parts of the pattern you want raised.  There is no wrong or right way.  Sometimes I don't have a plan.  I choose one element in the pattern to raise, and then decide as I go along what to raise next in the design.
One you have decided on a part of the pattern to raise, place the metal front side down on your soft surface.
Using a paper stump or the ball end of a cup & ball embossing tool, gently push out the section you want raised – you are now working on the back side of your design.
 Tip:  If you are working on a straight line use a ruler as a guide and use the Teflon stylist to raise the line.
Next, lay your metal front side up on your hard surface.  Using the Teflon embossing tool, define the area that you just raised by outlining the outer edge of the raised area  (to define a line, define the line by outlining both the outer and inner edge of the raised area).
Turn your work over, again on a hard surface, define the inner edge of the raised area with the Teflon embossing tool.   Continue to define the area as needed, front side to back side until you are satisfied with the result.  The goal is to create a uniform appearance of the raised areas.
Choose the next section of the pattern you wish to raise and start the process over again. Repeat until you have finished your design and are satisfied with the results.
This particular pattern in the example has small circles in the design.  The easiest way to do these is with a cup and ball embossing tool – like the one below.  They come in various sizes.  You can do this with a rounded pencil eraser – just define it on the front side – and yes, it does take a little practice.
The ball end of the tool is used to push the metal out by pressing down on the metal with little circular motions from the back side of the project.
Turn the project over to the front side, use the cup end of the tool to define the circle you just made.
Below is a section of this pattern that has been completed.  This takes a little practice, the key is to define your raised areas well.  It makes a big difference in your finished project.
Embossing with a stencil:
Using a stencil changes the more traditional way of embossing described above in the fundamentals section.  Also, using a stencil can speed up the process and the result is a fun embossed piece that is perfect for craft projects.   If your piece is small enough, and you have an embossing machine (Sizzix or Cuttlebug),  I have read that you can run your metal through the machine like you would do for paper craft embossing.
I don't have an embossing machine, however, I have used the embossing folders for two projects on my blog.  Click on either link to view the project posts:  Valentine's Day Wall Hanging      Metal Embossed Sunburst Mirror
In order to have pictures for this process, I created a quick fun project.  I chose a pattern from my Pinterest Pattern board. It is attached to the metal with painters tape.
I will be using 2 embossing folder stencils for this project, one for the hat and one for the dress.  By using these stencils, I will get an awesome texture pattern in those areas.
I traced the basic pattern onto the metal using my Teflon stylist and then removed the pattern.
I chose an embossing folder, opened it up and laid my metal front side up on top of the opened embossing folder.  Using a paper stump, I rubbed over just the area I wanted this pattern to appear.
This project took me about 10 minutes to do and it turned out just as I had imagined it.   Quick, fun and so easy!  Isn't that what we look for in our craft projects?!   I love the textures in this elegant lady.
Both projects will need some finish work which I will cover in my next and last post of this series.  I hope you will come back and see the finished projects.
If you are enjoying this Series, we'd love if you'd Pin It.  Thank you!