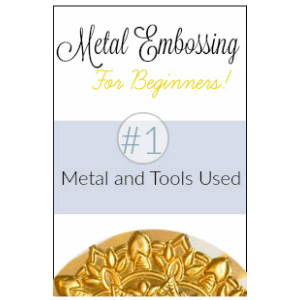 Thank you for the comments, e-mails and interest in the metal embossing projects posted on my blog.  A few people have asked for additional information on tools, supplies and how-to.  I have decided to do a little mini series on the Basics of Metal Embossing.  In this post I'm going to discuss the metal and tools used.
Why Metal Embossing? 
A couple of years ago, I was hunting for a new craft to try.  I found this book by Magdalena S. Muldoon at the library.   I checked it out.  Twice.  This book gave me the basics on embossing which I will be passing on to you a little later in this series.  I do recommend that you check out this book if you can. This book gives great information on techniques and includes project inspiration along with the patterns to be able to complete them.
Keep in mind that I am no expert, and I am passing on what I have learned and what works best for me.
So now, lets talk tools of the trade.  I have compiled a list of the basic items I use and where you can find them.
 Metal:
The more traditionally crafted embossing is done with tin-coated pewter or silver.  These metals are rather expensive – especially for craft projects.  I do have a sheet of pewter that I have been saving for a very special project . . .but to tell you the truth, I don't know that I will ever use it!
I emboss with aluminium embossing foil and I order it on-line because it is the most economical source.  A roll of  12″ x 25 feet of aluminium  is $16.50.   A roll will last me 6 months or more, depending on the size of the projects I'm working on.
I order from Dick Blick Art Supplies.  You can see their selection here:  Embossing Metal Foil    If you use aluminium, keep in mind that all of your scraps are recyclable!  (Note:  I typically use 36 or 38 gauge metal.  There are other sources for metal on-line too if you want to look around).
You can obtain individual sheets of metal or smaller squares of embossing metal foil at Hobby Lobby and probably most of the crafting stores or on-line.  Usually it is used for scrapbook pages and card making.   These would work for smaller projects, but it is expensive considering the amount of metal you get for the price they charge.
I have taken a pair of metal snips and cut the top and bottom off of soda cans. This metal works fine for some projects, but not so much for projects with a lot of small detail.  The soda can metal is a much heavier gauge than embossing foil.
Another source for metal is disposable aluminium foil baking sheets.  Cheap and accessible and can be used for smaller craft-type projects.  You can pick them up at the dollar store or just about anywhere.  This metal is not as sturdy as the metal I use, but again, depending on the project, it may work just fine.
Embossing Tools:
Embossing tools used to be available in most of the craft stores, but I don't see them anymore.  However, they are available on-line.  To start with, you only need a few, but you can substitute and use other things too.
You need a Teflon pointed tool – or stylist tool.   In lieu of this tool, you can use a dull pencil.  You just have to wash any pencil marks off your project when you are finished.
Here are four sources for tools:
Ten Second Studios:   Basic Tool Set    I have this set and I use it more than my other tools. It is the set I started with and the stylist in this set is my most used tool.
Mister Art:  They carry several tools.  See Link here:  Various Embossing Tools   I have a few of these tools in my collection.  I recommend the cup and balls tools if you decide to try some more detailed pieces.
Amazon:  They carry many of these same tools.  Just do a search on their website for 'embossing tools'.
MercArtUSA:  This is another source for tools, supplies and metal.  Here is the link:  MercArt USA
The basic tool set is more than enough to get started and costs $16 -$19 depending on where you order it from.
Other Supplies To Have On Hand:
You will need something soft to emboss on.  It is recommended that you use a piece of leather or a piece of suede.  I actually emboss on a rubber mat I picked up at an art store.  You can substitute a small stack of newspaper or even a magazine.
Scissors.  A regular pair of scissors cuts through this metal with no problem.
Paper stumps.  These are available in the painting section of most craft stores.   Here is a link to a set from Dick Blick Art supply  Paper Stumps .  These are very inexpensive  (under $5.00 for a set).  I bought a set that included three different sizes two years ago, and I am still using the same set.
Hope you find this list and links helpful.  There are many more optional supplies which I will cover in my next post for this series.
If you are enjoying this Series, we'd love if you'd Pin It.  Thank you!