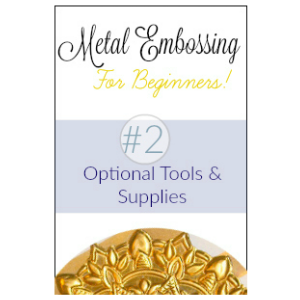 Thank you for the interest in this little series on the Metal Embossing, The Basics.  Today I'm going to talk about optional tools and supplies that I have used in my own embossing projects.  Some of you may already have these items on hand, especially if you do any kind of paper crafting or jewelry making.
I'm sure there are more items that can be used that I have yet to discover!  Every craft is only limited by one's imagination after all.
Keep in mind that I am no expert, and I am passing on what I have learned and what works best for me.
Patterns:
Some of my projects are made with my own patterns and others have been made with a pattern that I found either on the Internet, in a book or even on a piece of material.  Patterns are everywhere.
I have a Pinterest board with patterns that I have pinned and I welcome you to follow along, or visit the board for pattern inspiration.   Here is a link to my board:  My Pattern Board on Pinterest
Stencils / Embossing Folders:
Over the last few months, I have added several stencils to my supply collection.  I look for sturdy stencils because they work best, however, I have used all types.  Using stencils is perfect for quick craft projects!
Embossing folders which are used in the common paper embossing machines like a Sizzix or Cuttlebug, are my favorite to use for metal embossing because they are sturdy and so easy to use.  I do not own an embossing machine, but I have several of the embossing folders.  Many of them run about $5.00 a piece, but I usually wait to purchase them when they are on sale. They available at all craft stores and on-line.
Metal Stamps:
Metal stamps to add words or numbers to your project are a fun addition.  These are available at most craft stores in the jewelry making section.
Paper Punches:
This year I added a few paper punches to my collection of supplies.  Paper punches used in paper crafting can be used with embossing foil too.   These are readily available in all the craft stores in the paper crafting section.
Decorative Wheel Embossing Tools:
Decorative Wheel tools can add a nice touch to your embossing project.  I have a few of these type tools and there are several more that are on my wish list.
These tools are available on-line.
You can find a collection of Decorative Wheels at MercArtUSA.  Here is the link:  Embossing Tools at MercArt USA
Decorative Wheels are also available at MisterArt.   Here is a link:  Embossing Tools at MisterArt
When shopping around, I have also found some of these tools on Amazon by searching on Embossing Tools.
Paints / Finishes:
This is an area that I am always experimenting with.  Metal is not porous, so sometimes painting it can be a challenge.  But if you want different colors in your project, there are multiple options out there. This is a collection of the items that I have used, but I am always testing new things.
Alcohol Inks or any type of paint used for glass works well on metal.  However, if I use Alcohol Inks on a project, I spray the project with a clear finish coat to seal and protect the color.   These inks are available in all the craft stores and on-line.
Gilders Paste works well for a subtle amount of color and it comes in many interesting colors.  This is typically used in jewelry making. If I use this on a project, I spray the project with a clear coat to seal it.   Gilder's Paste is available on-line.  I have yet to see it available in a craft store.
I purchased mine from an on-line store called Lima Beads.  Love this store!  They have the best customer service I have ever found in an on-line store!  Here is a link:  Gilders Paste at Lima Beads.   You can also find it on-line in other locations as well including MercArtUSA and Amazon.
Acrylic Paint or other Craft Paints
I have used these types of paints as well.  However, these paints are not really made for metal.   When I choose to use these, I first cover the area I want to paint with a thin layer of gesso.  The gesso helps the paint to adhere to the metal.  Gesso is available in most craft stores in the artist painting section.
Getting a Pewter Finish using Aluminium
A finished embossed piece is typically shiny and the detail is hard to see unless you are looking at the piece up close.
Sometimes, you want a Pewter-like finish.  Now, if you use tin-coated Pewter, there is a chemical that is used to finish the metal that will blacken some of the areas on the piece to define the metal work.  There is a chemical that will do a similar thing to aluminium.  I don't really like using chemicals, but I have some that I have used, and it works well.  If you want more information on this, send me a message on my contact page.
There are other methods to get this look without chemicals.  I have read that some have painted their finished project with black craft paint, let it start to dry, and then buff it off so that the black is only in the recessed areas.  Others have used black shoe polish the same way.  I have tried all of these methods and they have all worked with some practice.
Back Fill
Filling the back of your project is sometimes necessary, especially if the project is going to be handled in any way.  I have made embossed pieces for furniture that I want to make sure that if someone bumps into it, it will not dent my design.
Metal embossing raises the metal, so the back side of the work leaves an indentation that can be filled in order to preserve the work.  I have made other projects that I put in a frame, or made as a wall hanging that I felt it was not necessary to fill the back of the project.
There is a product called Backing Paste or Filling Paste.  However, I think it is too expensive to be used on all of my projects.
I have filled most of my projects with regular white Elmer's glue.  It hardens and helps protect the raised design. However, if I want to use an embossed design on furniture or something that is regularly handled, then the filler paste is a much better option.  It is available at MercArt USA or at MisterArt on-line.
In my research, I have found that traditionally, melted wax was used as a filler.  I have not tried this, but I imagine it would be similar to the white glue.
Gesso can also be used to back fill a project and I have used it from time to time.   I have heard that drywall paste has been used for this purpose as well.
Embossing Powder
Embossing Powder is something that I have read can be used to color the metal, but I have not tried this yet.  Maybe you'll see this used in a future post.
Miscellaneous Supplies In My Supply Box:
I have a few other things that may come in handy on a project which include:  a standard compass that one of my kids used in school; a 12 inch metal ruler, a small hammer, a brayer, metal grommets, and a small poly cutting board that I only use for cutting out metal in a design – never for food!
I hope you will drop in for the next post in this series where I will talk about the basics of various techniques used to emboss metal.
If you are enjoying this Series, we'd love it you'd Pin It.  Thank you!