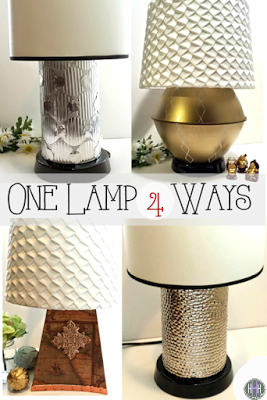 Have you ever wanted to replace a table lamp because it didn't fit with your decor anymore?  Or perhaps it's no longer in style?
I am in need of a lamp for my desk.  I have a smallish lamp that is not currently being used, but it's not the look I want for the desk.   I hate to buy something new when I have something that can be used. . . but when I see this lamp, I think bedroom.  Today I'm sharing 4 idea for changing the look of my lamp without actually altering the original lamp.  One Lamp 4 Ways!
Here is a picture of the current lamp.
So this got me thinking.  What if I could redo this lamp by making a cover to go over the existing lamp base in order to change the style of the lamp. Better yet, could I do this for little or no money?
I thought about it for another minute or so before I decided – why not?  I like a good challenge.
I got busy and came up with 4 different lamp base makeovers – without actually changing the lamp itself.   Each lamp base re-make includes a little tutorial so you can see what I did.
Re-Make #1
Trendy Silver Faux Hammered Metal Pillar     Cost to me:  $5.00
Supplies used:
Empty Quaker Oats container
silver thumb tacks  – used 5 boxes from the Dollar Store  $5.00
batting
scissors
plastic grocery bags
I used a scissors and cut a hole in the bottom of the oatmeal container for the bulb socket and light switch to fit through.
I watched a movie and began pushing in thumb tacks.  Depending on how close you put them, you may end up using more or less thumb tacks than I did.    You may want to line the inside of the container with batting.  Makes it a little easier to push in the thumb tacks with one hand inside the container.   You can see I got pretty far before I decided to stop and add the batting.
The batting also helped protect the lamp from getting scratched as I put the container over the original lamp.  Rolled cardboard on the inside could do the same thing.
The only problem was, if the lamp was bumped, the container would move.  So to solve that problem, I stuffed the inside of the container with plastic grocery bags to make the fit snug so the container wouldn't move off-center if the lamp was bumped.
Re-Make #2
Trendy Silver Embossed Pillar –  Cost to me:  $0    I had all these supplies on hand.  Yippie!
I was liking the look of the faux hammered metal, but being the metal embosser that I am, I had to also make a cover that had some simple and quick embossing.
Supplies used:
empty Quaker oatmeal container
silver spray paint
38 gauge metal embossing foil
2-1/4 inch circle punch & 1 inch circle punch
embossing folder
Paper stump
glue
plastic grocery bags
Cut a hole in the bottom of the container as described in Re-Make #1 above.  I spray painted the container silver.  While that dried, I punched out 40 circles.  Using the embossing folder and paper stump, I embossed the larger circles with my favorite texture pattern.
I glued the circles to the container.  I used hot glue because it dries fast.  You must be very careful using hot glue with metal – the metal will get very hot quickly.   Alternatively, you can use E6000 glue, but you have to hold down each circle for a time to allow the metal to adhere (I'm just not that patient!).  I recommend using a tweezers to hold the metal if you are using hot glue.  I again stuffed the inside of the container to keep it in place on the lamp base as described in Re-Make #1.
Re-Make #3
Covered Triangler Base       Cost to me $1.99
This was Mr. Hobby's favorite of the group.  He liked the shape.   Because this base was wider than the original, I did switch out the lamp shade to a larger shade.  But this post is all about that base  . .'bout that base, .  .no treble . . .
Supplies used:
Cardboard (I used the cardboard from a 24 pk of diet coke)
Ruler
pencil
scissors
map paper
Mod Podge
paint brush
duct tape
Embellishments of your choice – I used copper metal tooling foil and an unfinished wooden applique that I picked up at Hobby Lobby for $1.99.
The first thing I did was measure my lamp base width and height.  I made a pattern out of a piece of cardboard from a case of diet coke.  I used this lightweight cardboard because I knew that once I did the Mod Podge and pulled the paper tightly, the cardboard would curve in a little – giving me the shape I was looking for.   If you use a heavier cardboard, you may not get the curve effect.  After I made the first pattern, I traced and cut out three more.
Using duct tape, I taped the 4 sides together.
After the 4 sides were assembled, I put on a very thin coat of Mod Podge then smoothed on the map paper.  The map paper I used is from a roll of wrapping paper that I bought a couple of years ago on-line for another project.   So happy to have found another use for it!
After this dried, I put another coat of Mod Podge on the paper.  By this time, the cardboard did curve slightly inward in the middle of each side.  I cut a slot in the back for the lamp cord.
After that dried, here is what I had.  It's okay, but I knew I could do better.
This is where the embellishments come in.
I used 38 gauge aluminium tooling foil that was copper tinted on one side.  This metal is soft and easy to handle without the worry of getting cut with sharp edges.  Using an embossing stylist, I drew 2 lines on the aluminium side the foil and cut that out.  This created a ribbon-like piece of metal. Using a cup and ball embossing tool, I made the raised circles.
Using hot glue, I attached the metal ribbon piece to the bottom of each side.  (Be careful handling metal with hot glue – use a tweezers or tongs to hold the metal because it will get very hot quickly!)
I picked up an unfinished wooden applique from Hobby Lobby for $1.99.   Using copper gilders paste, I just quickly rubbed on the copper color with my finger.   Then I hot glued this to the front of the base.
Using metal is pretty easy for me because I have the supplies to do it.  Alternatively, you could use washi tape, twine, material, strip of leather or anything else you can think of.
Re-Make #4
 Gold Bowl Base –  Cost to me $2.00
Supplies Used:
2 plastic (Lucite) bowls from the Dollar Store
Dremel – with standard cutting bit / Eye protection
Gold Spray Paint
Super Glue
small thin piece of cardboard
ruler
pencil
scissors
White Paint Marker
Spray clear top coat
The Dollar Store is stocked with these plastic bowls right now for the summer holidays.  So I picked up a couple for this project.  Wasn't sure if it would work, but I figured if my $2.00 investment was a fail, I wouldn't cry about it.    Mr. Hobby assured me it would be possible to cut away the bottom of each bowl.    I wasn't so sure . . .
I will admit that I did not cut out the bottom of the bowls.  I let Mr. Hobby do it.  Took him all of 10 minutes to accomplish the task.  There were a few very small cracks near the base when he was finished.  I wasn't worried about them as they were so small.  But to protect the bowel, I cleaned away the plastic dust then put a small dab of super glue over each crack.The edge was a little rough were the bottom of the bowl was cut away. Again, I was not too worried about this.  I just glued a strip of felt over the bottom bowl so that it would not scratch my original lamp base.  The top I just left, but you could do the same if you are worried about it.
This is not the best picture, but this is a hard one to get.  This is the bottom of the bowl where the bottom center was cut out.   Mr. Hobby suggested putting a bead of hot glue around the edge which would cover the rough edge.  It was a pretty good idea, but I didn't try it . . .um . . . because I forgot to.
I spray painted each bowl on the outside.  I considered painting the inside, but after the cutting, there were a few scratches on the inside near where the cut was done probably from flying little plastic pieces.   I didn't want those to show, so I spray painted the outside with 2 coats and let that dry. I took the small piece of cardboard and drew a small triangle pattern and cut it out.
Once the spray paint was dry, I super glued the two bowls together.   I tried it on the lamp for size. Looked good just as it was, but I wasn't finished yet.
I took my triangle cardboard piece that I made and traced around it using a white paint marker.  I thought the simple pattern added  additional visual interest.   Let everything dry overnight, then spray with a clear topcoat.  Done!
Like those little Buddhas?  Picked them up at a flea market – set of six little Buddhas for a whopping 50 cents.  I just love them!
The thing I love best about this project is that each re-make is just a cover that is not actually attached to the original lamp.  I can lift it off anytime I want a change or use the original lamp as it was.
This was such a fun challenge.  I keep thinking of other ways to 're-make' the lamp.   Seriously, how many lamp base covers does a person need?
If you enjoyed this project, we'd love if you'd  Pin It  to share!  Thank you!