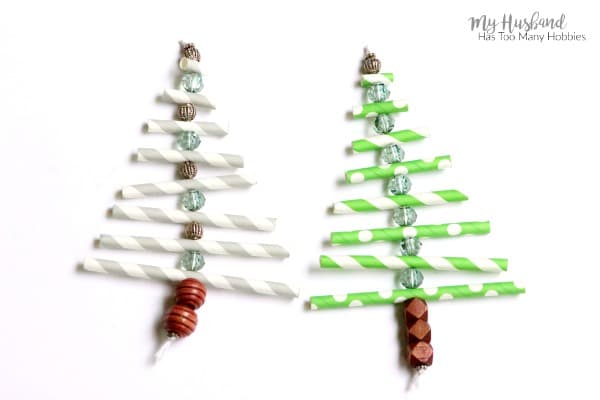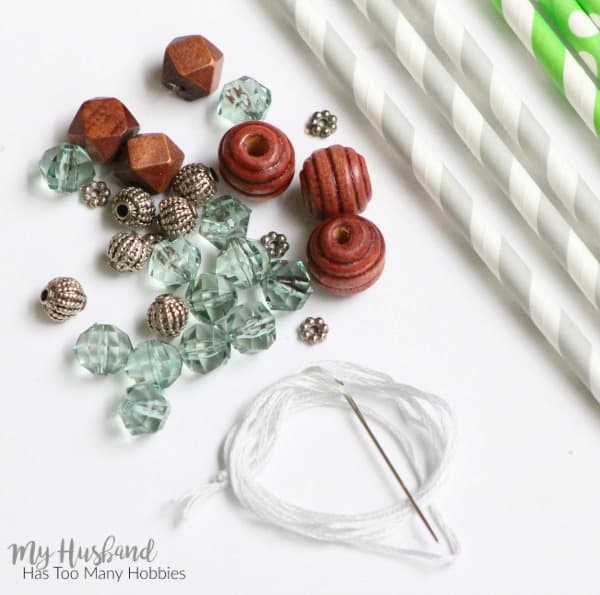 I've teamed up with some awesome bloggy friends to bring you Christmas in July!  Every Wednesday in July we will be sharing and linking up Christmas themed projects!  Hope you'll check in each week for some fabulous Christmas ideas and inspiration!  This week we are sharing an adorable Christmas Ornament project.
Christmas in July is being hosted at these awesome blogs:
2 Crochet Hooks
Across The Blvd.
SewCraftyCrochet
The Boondocks Blog
One Mama's Daily Drama
My Husband Has Too Many Hobbies
Purple Hues and Me
Stone Cottage Adventures
Purfylle
Olives-n-Okra
This week I'm sharing an adorable Christmas Tree ornament made from paper straws and beads.  I saw this project posted by Jess @ Make And Do Crew last Christmas and I loved it!  I bought the paper straws last year to make my own, just never got around to it.  I still needed beads, so I searched around my craft supplies and found enough to make two ornaments.
Supplies Used:
Paper straws
Assorted Beads
Embroidery Floss
Needle
Scissors
Paint Brush
Ruler
To save time, I cut the straws for both ornaments at the same time.  Using a ruler, I cut 2 straws at a 4″ length.  This would be the bottom straw on the ornament.  Each additional layer was shortened in length by 1/2″ until I had 2 straws each of 8 different lengths.
After the straws were cut, I stacked two of each length together and poked a hole through with the needle to make them easier to put together.  (I did not pull the thread through at this point).
Pushing the needle through the straws tended to bend them in a little.  To get the shape back, insert a paint brush or other object and push the straw back out to its original shape.
Use a length of embroidery floss and tie a knot in the end.  String larger beads that will act as the tree trunk.
Then alternate with straws and beads.
When you are finished be sure to leave a loop at the top for hanging.  You can see in the below picture that I forgot to do that.  Whoops!   I tied a knot at the top and cut it before I even thought about it.  No worries.  I just attached a silver ornament hanger to mine.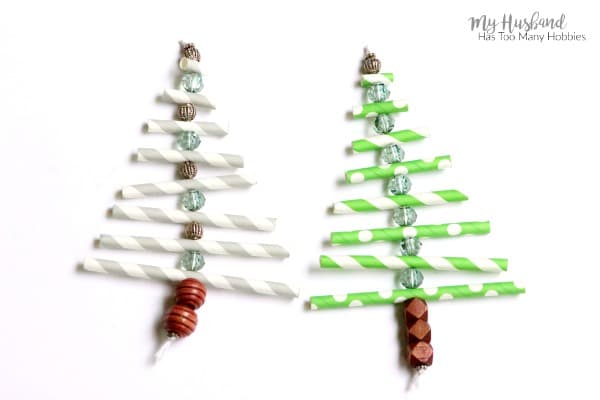 These are so cute and they hang nicely in my summer Christmas Tree.
One package of paper straws will make several of ornaments.
These would make a fast & easy ornament to make for an annual ornament exchange party don't you think?  Just be sure to keep a few for yourself because they are so cute!
If you enjoyed this project, please pin it to share!  Thank you!
We invite you to hop around and visit the other projects and Join in the fun too!  Link up your own Christmas posts.  New or older posts are welcome!