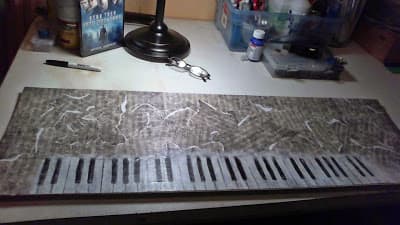 I have had this vision in my head of a piece of artwork to hang near my beautiful piano.  The time has come to start bringing that vision into reality.
I started with an old framed picture that has been collecting dust in my basement just waiting for a makeover.
Here was the original framed art that just doesn't go with the décor anymore – and the length of the picture is perfect for this project.
I ripped off the backing on the picture, took out the print, and using the backside of the original print, I used mod podge to attach sections of sheet music scrapbook paper leaving some of the torn edges showing to get the effect I was looking for.   Then I painted a piano keyboard along the side.
When I was finished I coated the top with more Mod Podge.
After it had dried, I put it back in the frame.
It's not quite finished yet. . .I want to add either some lyrics or a music quote . . still trying to decide.
I love taking old things and finding new ways to use them.
Thank you for stopping by!