Every year I make a Christmas Tree project and I have to say that this is one of my favorites so far.   I love the rustic look of these trees and for whatever reason, I'm totally into buffalo plaid and intend to use it a lot in my holiday decor this year.
I saw a post on Pinterest earlier this year with some awesome felt Christmas Trees shared by Little House of Four which was the inspiration for this project.  You can see her awesome trees  here.
I knew I wanted to make some of my own and when I found buffalo check ribbon on sale at Hobby Lobby, I snatched it up to use for my trees.
How To DIY Ribbon Christmas Trees
I found and printed a Christmas Tree pattern on-line and cut it in half.    I printed it in two sizes.
The large pattern I used was 5 and 1/2 inches tall.   The smaller tree pattern measured 3 and 1/2 inches tall.
I was able to make one large and one small tree from a spool of ribbon.
I cut several tree patterns from the ribbon at once.  I pinned the tree pattern to the ribbon to keep the pattern in place and I cut out the trees leaving the wire attached.  My plan was to attach the sturdy wire to the tree branch when gluing these together.
I cut  —-  of each size pattern.  This ribbon when cut had a tendency of fraying and it was rather thin and a little more flimsy than I thought it would be, so to fix that problem, I laid the cut pieces on a sheet of wax sided paper and coated them with starch.
I poured the starch into a shallow dish and dipped the ribbon trees in the starch and then left them to dry overnight.
While they were drying, I used my large pattern and cut trees out of green felt that I had on hand.  I thought I could practice with the felt tree while the ribbon pieces were drying.
I used hot melt glue to attach the cut felt to a tree branch, making sure that the tops over hung the branch.  I worked my way around the branch, gluing as many pieces as I could fit.  The number of pieces you need will depend on how full you want your trees to be and how large of a branch you have to cover.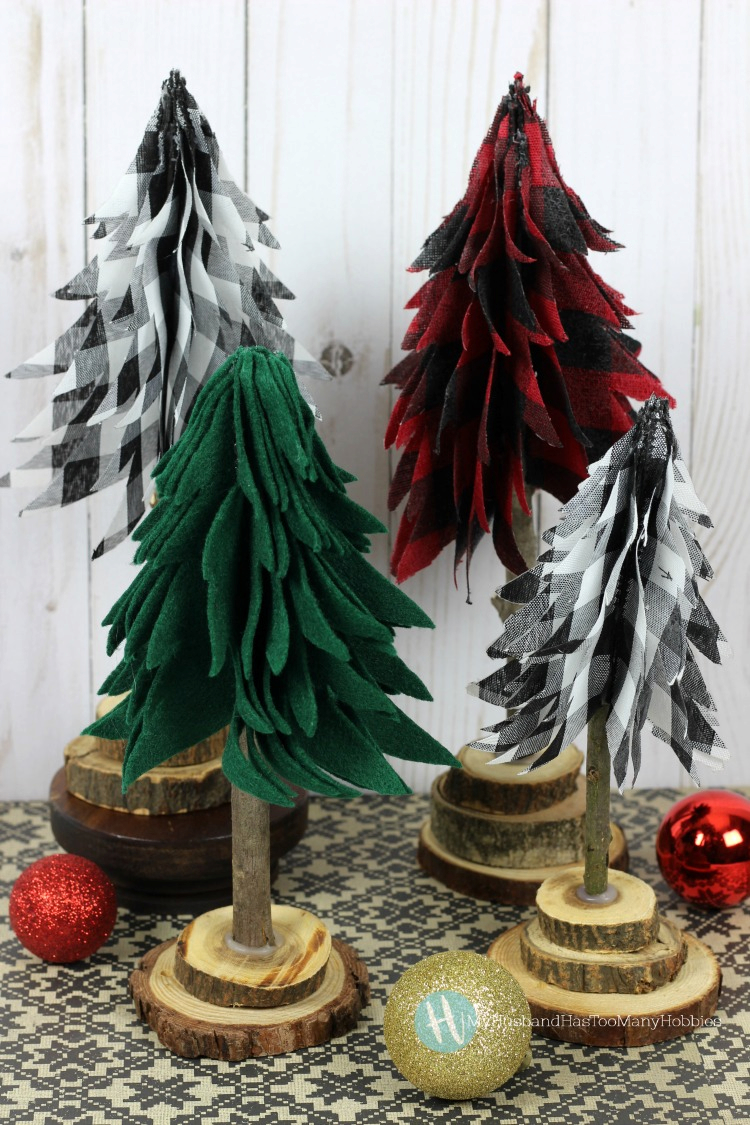 When the starched ribbon dried, I followed the exact same process and glued the ribbon tree pieces to a branch.  It was good to leave the wire on the ribbon as it made it easier to glue them to the branch.
I used various heights of tree branches as the trunks of the tree and then stacked wood slices which were hot glued together for the base of each tree.
Oh my goodness, aren't these way cute?  With the light reflecting on my trees you can actually see a little bit of the starch, shows up a little more in the picture of the red tree, but it is hardly noticeable in person.
I'll be using these trees to decorate my Christmas mantel this year.
If you enjoyed this project, please Pin It to share.  Thanks so much for supporting this blog.