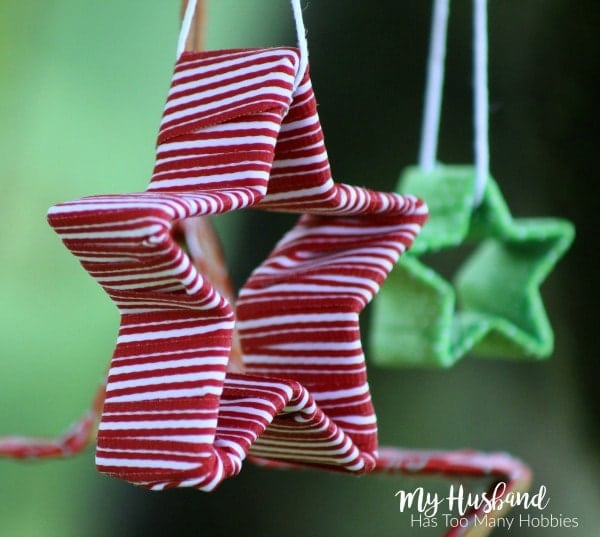 It's hot outside, and we're making Christmas Crafts!  Why?
I've teamed up with some awesome bloggy friends to bring you Christmas in July!  Every Wednesday in July we will be sharing and linking up Christmas Crafts and project ideas!  I hope you'll check in each week for fabulous Christmas inspiration!
Christmas in July is being hosted at these wonderful blogs:
2 Crochet Hooks
Across The Blvd.
SewCraftyCrochet
The Boondocks Blog
One Mama's Daily Drama
My Husband Has Too Many Hobbies
Purple Hues and Me
Stone Cottage Adventures
Purfylle
Olives-n-Okra
This week I'm sharing an easy Christmas tree ornament.  This not only makes a wonderful ornament, it could also be an inexpensive gift idea or perhaps used as a gift topper.Do you have ribbon left over from last Christmas, (or the Christmas before) like I do?  This is a cute way to use up some of that leftover ribbon.
Supplies Used:
Cookie Cutters
Ribbon
Scissors
Glue Gun
Choose a ribbon and start wrapping it tightly round a cookie cutter.  Secure with a dab of hot melt glue at the end.
Aren't these cute?  They are so easy to make too.
I recommend using soft ribbon without the inserted wire.
The size of the cookie cutter will determine how much ribbon you need.  For the Large star I used  about 6-/12 feet of ribbon.
If the ribbon you have is too short to wrap the entire cookie cutter, just cover the outside or the inside edge with ribbon.
It may be July, but these adorable ornaments belong on a tree.  Aww, look how cute they are hanging in my apple tree.   It's beginning to feel (a little) like Christmas!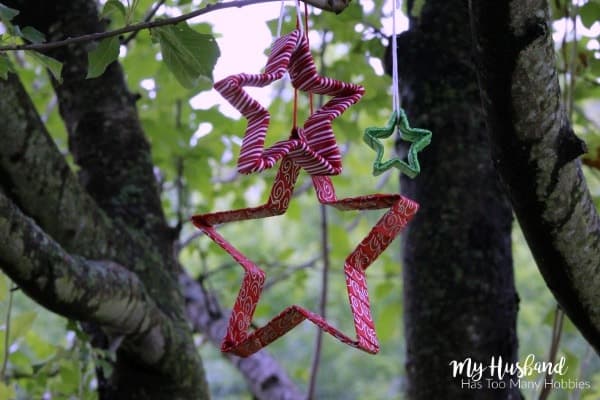 If you enjoyed this project, please pin it to share.  Thank you !
We invite you to hop around and visit the other projects being shared and join in the fun! We'd love for you to link up your own Christmas posts.  New or older posts are welcome!   See you next Wednesday for more Christmas In July!