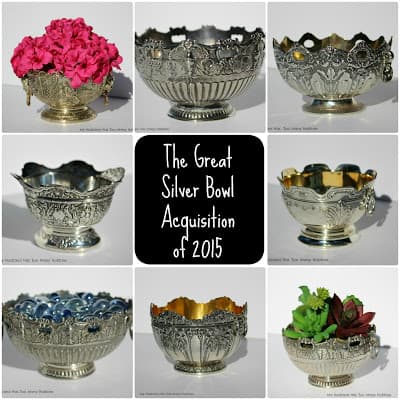 I promised to do a post sharing my newly acquired silver bowl collection.  (Please note:  I'm also using this post as a little confession of sorts, including my very own 3 step program.)
Aren't these lovely?!
A little over year ago, I picked up my first little silver bowl at an antique mall for under $5.00.  I loved it and used it as a display in my post for Shabby Easter eggs.
If you haven't seen this post yet, you can see it  [ here ].
I always kept my eye out for another one, but was never able to find one . . .until recently.
I was on eBay looking for something totally unrelated and happened to do a search on silver bowls.  Although the prices were all across the board, I was surprised to find several in my price range . . .cheap!   Since I had recently received a visa gift card as a thank you for a job well done at work,  I decided to place a bid on two of them.  Silver bowls are not exactly a line item in the family budget, so the gift card was perfect.
I was so surprised when I won the bids.  Score!!  This, my friends, is how the obsession started.
I kept finding more.  I bid on a couple more. . . then a few more.  Some I won, others I stopped bidding on because the price went too high.  In the end, I had eight bowls shipped to me over the course of two weeks!
Here is where the first confession part comes in.  By the time I received the fourth bowl, I was pretty sure Mr. Hobby would think that I wasn't spending my money very wisely.  I forged on regardless because . . .well, I was obsessed.     (Step 1 . . .admit you have a problem. . .)
After buying the eighth bowl, I had thankfully depleted the supply of silver bowls in my price range on e-bay thus ending the oft whispered need for a Silver Bowl Intervention.   But, the story doesn't end here.   Oh no, read on. . .
I did another search  .  .  .  for silver tea sets.  I didn't have a lot of money left on my gift card, but I thought it wouldn't hurt to look .  I love silver tea sets and have always wanted one.  Heck, I don't even drink tea!   But they are so beautiful, I couldn't resist looking.
I found an unusual little antique tea set that I fell in love with because of its beautiful repousse work.  It was priced higher than I was willing to pay (i.e.  more than the balance left on my gift card), but the seller noted he would consider an offer.  So I made an offer in my price range that included shipping, all the while thinking there was no way the seller would accept my offer.  But he did!   Fate?!  I like to think so.
This beautiful set is heavily tarnished and in desperate need of cleaning and polishing.  I'm sure it will take me a while to clean it up.  It makes me so happy just to look at it, tarnish and all.  I just started on cleaning the tea-pot, but as you can see – I have a way to go yet.
I have another confession. . .   I still search for silver bowls from time to time. . but I have resisted adding any more to 'the collection'.  I just keep repeating to myself over and over . . . How many silver bowls does one person need??!!   And it helps that there is less than a dollar left on that gift card.   (Step 2 . . . knowing when to stop . . .)
Okay, one last small confession . . .I found a few listings for beautiful antique silver sugar bowls that are very lovely and highly collectible . . .but for now, I'm just looking.  . . really!. . . I promise! gulp!    (Step 3 . . . lose the e-bay password!)
Here are the individual pictures of each of the new bowls . . .
Each one is different, yet they are all similar. Two of them are in the same style, but they are actually different sizes.   Eventually these bowls will be disbursed throughout my home but for now they reside on the new bookshelf  Mr. Hobby just made and finished for me.

Mr. Hobby is one talented guy!
Well that's the collection!  Funny thing is, I'm not really much of a collector, but for some reason I really love these bowls.   What kind of treasures do you collect?