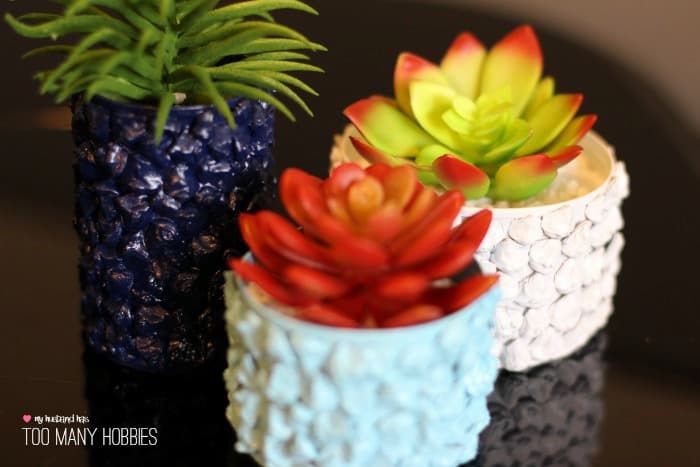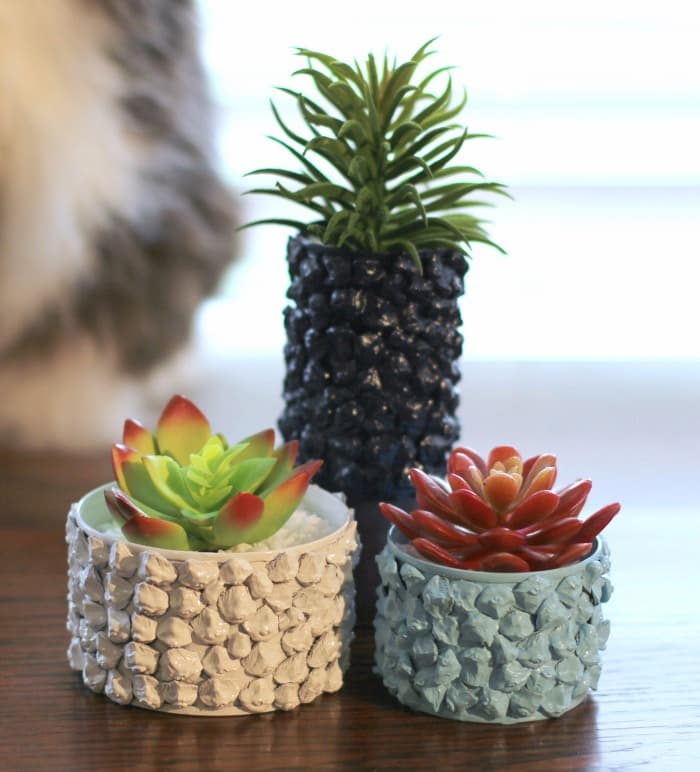 In honor of Earth Day coming up next week on April 22nd, we are sharing a tin can upcycle project.   These Tin Can Pine Cone Planters are so cute and are pretty easy to make too.  The pine cones add texture and they can be spray painted any color to match your own taste or decor.
Tin Can Pine Cone Planters
I used tin cans in various sizes.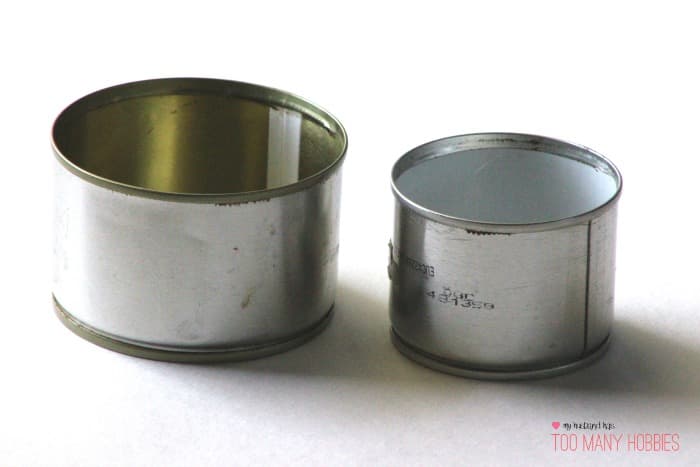 12 pine cones were used for this project.   Depending on the size of the pine cone and tin can, you may need more or less.   I found that a wire cutter and a pair of household scissors worked best to detach and trim the ends of the pine cone.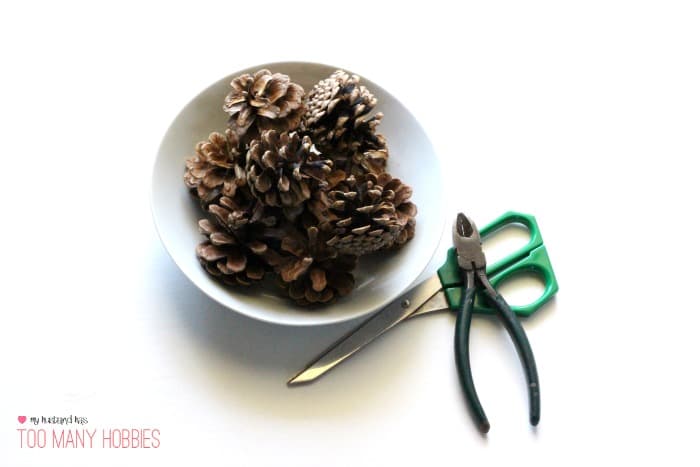 I used the wire cutter to basically get a hold of the tip, twist and cut.  After trying several different methods, I found this was the easiest and the fastest, and what worked best for me.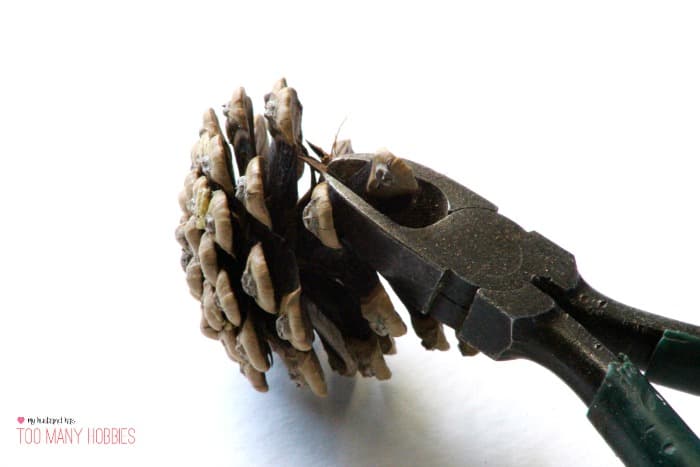 I cut from the larger end of the pine cone (the bottom) and worked my way up as those tips were easier to get to.  I left the smaller end alone.  I asked Mr. Hobby to cut off the smaller ends to be used possibly for another project down the road.   You can see I stripped the cones pretty well.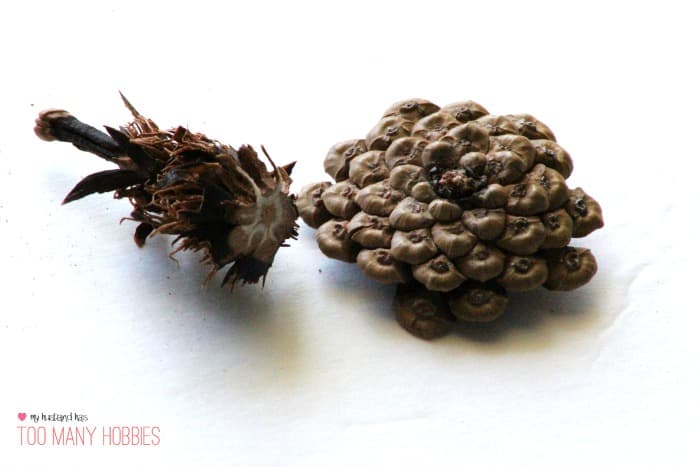 After I cut off all the tips, I used the scissors to trim them so I only had the end of the tips remaining.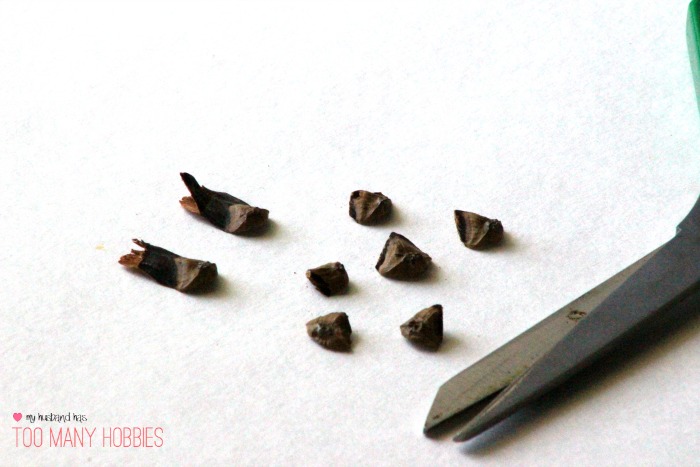 The process of pulling off the pine tips and trimming them took a couple of hours and was a little tedious until I got the hang of it.   I ended up with a little less than 1/3 of a bowl full of pine cone tips.  This was more than enough to cover the 3 tins I was using.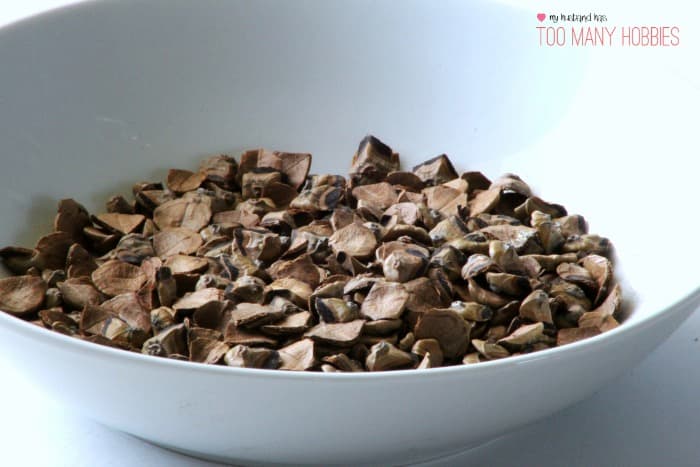 E6000 glue was used to attach the pine cone tips to the cans.  I worked in sections, applying glue, then pine cone tips.   The process went much faster than I expected it to.   I suppose hot melt glue would have worked, but I wanted a stronger bond.  I was afraid that with handling, the pine cone tips would pop off with the hot melt glue, so I opted for the stronger stuff.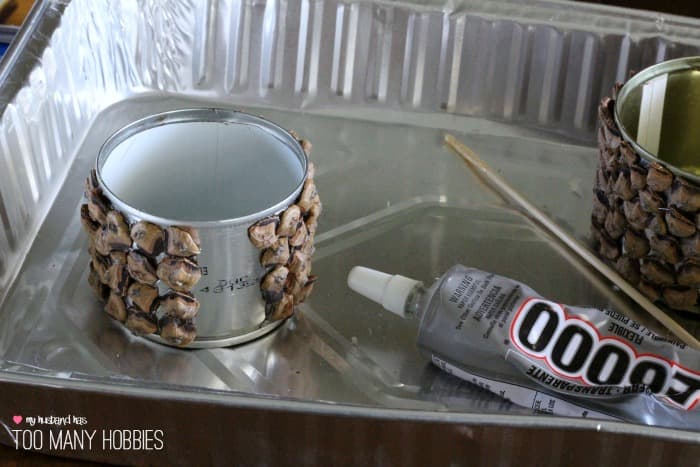 I planned on spray painting after the pine cones were attached to the cans, but if  you would rather go for a natural look, then paint your can first.   I painted one of the cans with a copper spray paint before gluing on the pine cone tips so I could show you what that would look like.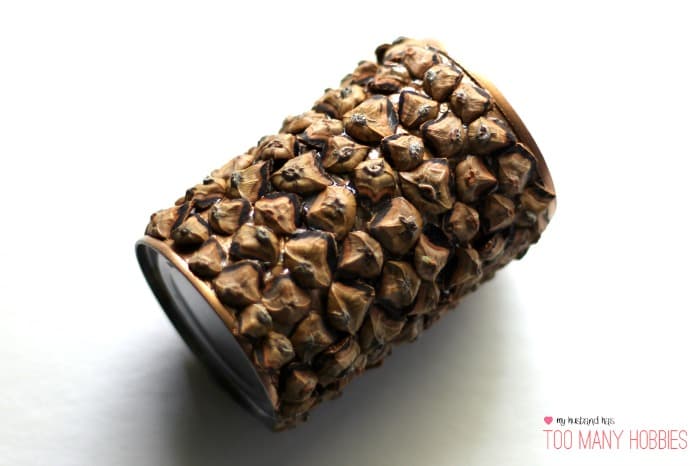 Let the glue dry and set for 48 hours.
Mr. Hobby liked the 'natural' look  best.  I liked it too, but it was not my original plan.  I wanted colorful textured planters, so I spray painted each of the cans with a gloss spray paint.   It took 4 coats for good coverage.  Allow each coat to dry fully before applying the next.
After the paint dried, I filled each can with sand to about an inch from the top.   Next, I added little white rocks that I found at the dollar store.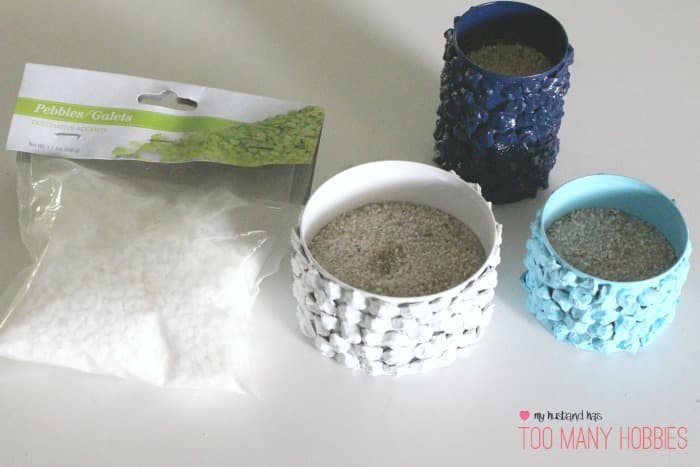 Then I inserted a plastic succulent into each can.  I got these at the dollar store too.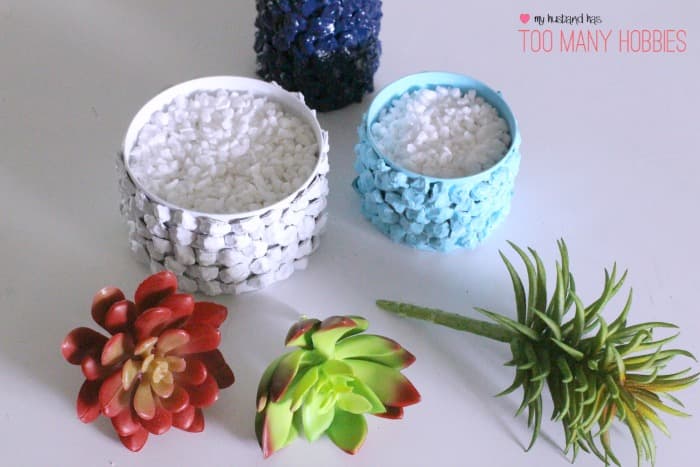 I love how these turned out.  Yes, they take a little time, but I thought it was worth it.  I plan on making some natural ones as well.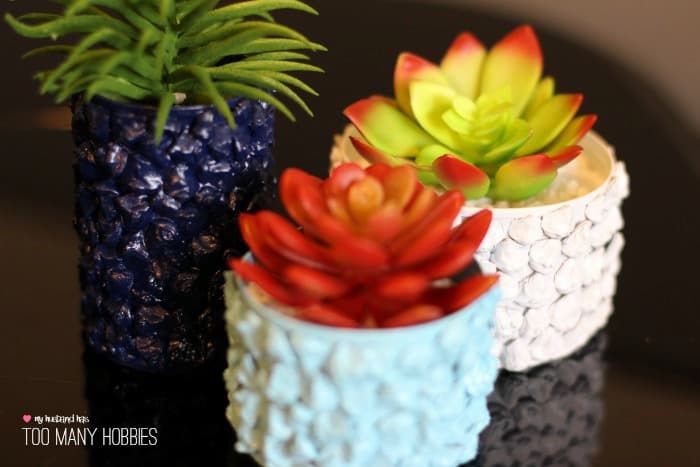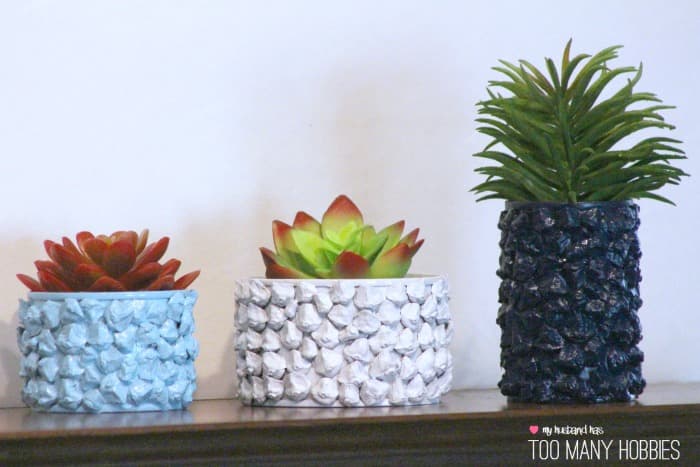 Did you spot my cat photo bombing one of my photos?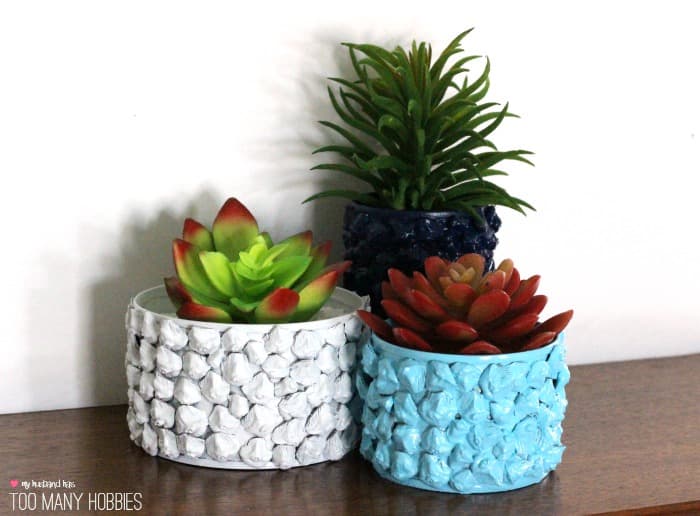 If you enjoyed this project, please Pin It!  Thank you!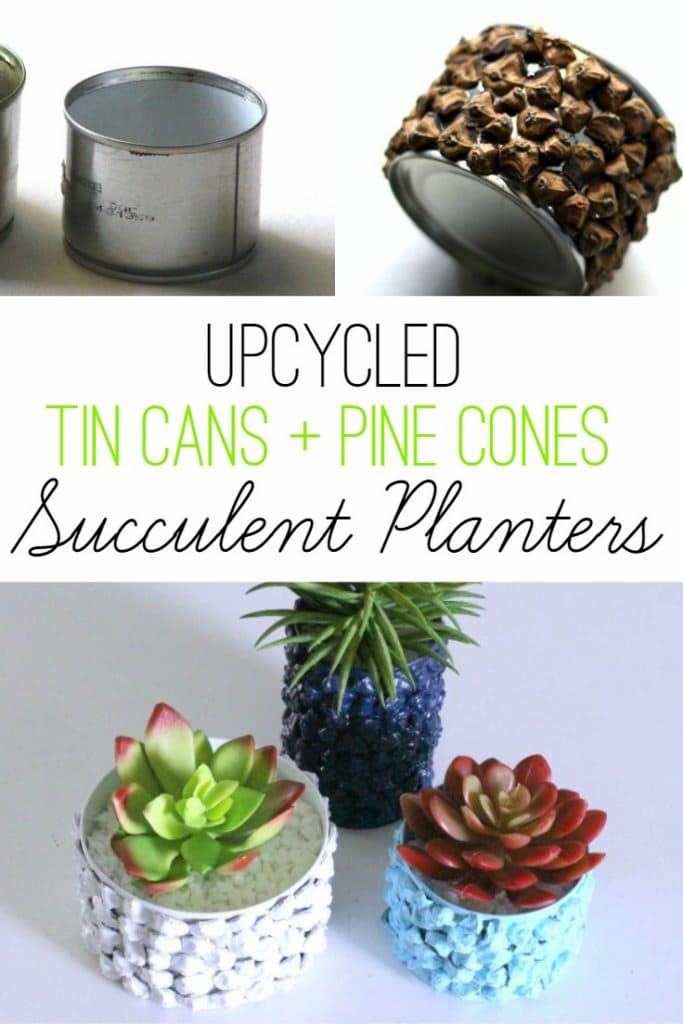 Thank for stopping by!