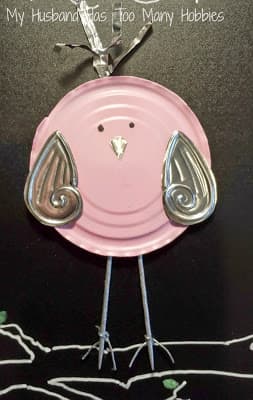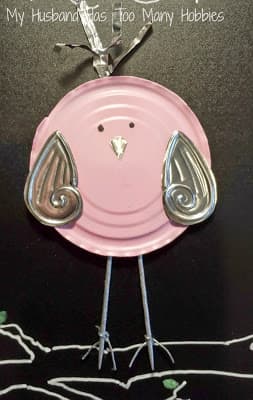 I have a fun project to share today.   This is one of those projects that just kind of happened. Sometimes my projects that just happen don't go so well, and others. . .well, you be the judge.  We are loving these tin can lid birds!
If handling a tin can lid scares you, substitute a canning lid or use a can opener that doesn't leave sharp edges.
I gained some inspiration for this project when I saw the cute denim bird that my friend and fellow blogger Beverly @ Across the Blvd. made for her burlap and denim wreath.   It is so cute and you can see her project [HERE].
Looking at my craft supplies, and I found a stash of tin can lids.  I  knew I'd think of something to do with them eventually!   I couldn't resist doing a little embossing with the wings.   I made the birds and then wondered how to display them.
I found some beautiful paper and thought about using it as a background for the birds, but I didn't have a frame large enough for all the birds to fit nicely into.  Then I spied some left over vinyl chalkboard contact paper and knew that I had found the solution.   Score!    Love a project that can not only be completed in one evening, but you also have everything you need in your craft supplies!
Supplies Used:
5 tin can lids
craft paint
paint brushes
38 gauge embossing foil
embossing stylist
aluminium foil
scissors
tooth picks
jewelry wire
silver spray paint
glue gun / glue sticks
foam board
vinyl chalkboard contact paper
brayer
Bistro chalk Markers
removable mounting squares
Paint each tin can lid a different color.   (I embossed the wings.  You can find info on how to emboss in Post 3 of my Basics of Embossing series found on the menu bar under Metal Embossing How-To).   I cut some beak triangles from my metal scraps.
In order to make the bird feet, I took toothpicks and wrapped a small piece of jewelry wire at one end.  I secured it with a bead of hot glue.   I spray painted all of the bird feet with silver spray paint.
I had a few scraps of tin foil left over from my
Shabby Easter Egg
project, so I cut thin strips and made two tufts of hair for the larger birds.  I glued these to the back of the unpainted side of the lid.  Then I glued the wings and beaks on each bird.
While the bird feet were drying, I cut a piece of foam board to the size I wanted.  ( I always keep foam board in my supplies because we use it so often for school projects).
Using the brayer to smooth out the contact paper, I attached the chalkboard vinyl to the foam board.
Once the bird feet were dry, I used the hot glue gun to attach feet to the unpainted side of the tin lids.
Using Bistro chalk markers, I drew a tree branch with budding leaves and wrote Welcome Spring across the top.
To finish, I attached a square of the removable mounting squares to the back of each bird and stuck them on the chalkboard.   I decided to use the mounting squares because I plan on using this chalkboard for other things and I figured I could remove these when I was ready to change things up.
So I actually ended up with 2 projects in one.  I have cute spring display chalkboard  and I have a faux chalkboard that I can use to display other things!
I have asked Mr. Hobby to make me a frame for my faux chalkboard – but I'm sure it will take a while.  Perhaps the frame will be finished and attached by the time I'm ready to re-make this chalkboard display into something else.  Hope so.
If you like this project, we'd love if you'd Pin It to share.  Thank you!
Hope you have a great week and Thank You for stopping by!