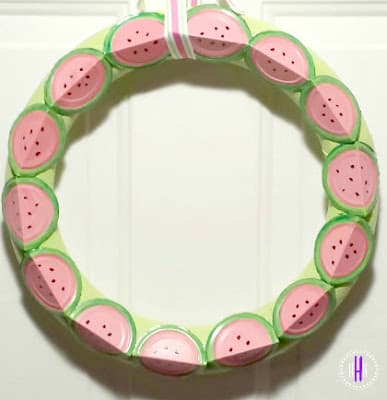 April is Earth month, and what better way to celebrate than to create a fun up-cycle project?!  This easy, and oh so cute Watermelon Wreath is made with tin can lids and was easily made in one evening.
Please Note:  I understand that some people are concerned that tin can lids are sharp.  Yes, they can be.  I work with metal all the time and have never had an issue, and the inspiration for this project was to up-cycle.   If you are worried about the sharp edges, substitute canning lids or use a can opener that leaves a clean-cut like the Pampered Chef type can opener.
Supplies used for this project:
Styrofoam wreath form
Light Green Spray Paint
14 Tin can lids
Craft paint
Paint brushes
Hot Glue Gun
Ribbon
To start, I used a white Styrofoam wreath form and spray painted it light green.  While that dried, I started on the watermelons.
Bend each tin can lid in half.  I used the edge of my work bench to easily bend the lid.
These are the paints I used.
Paint the outer edge of the lid with a darker green paint.  It took 2 coats to get good coverage.
I mixed light pink craft paint with a little red craft paint to achieve this color.  This is the first coat of the melon.
While the melon color dried, I painted over the dark green with one coat of a lighter green – leaving the outer edge the darker green color.  When that dried, I applied a 2nd coat of the melon color.
With black craft paint, I added a few seeds to each melon.
Use hot glue to attach the lids to the wreath form then added a bow for hanging.
We love the bright colors and the shape the bent lids give the wreath.  It'll be perfect for that summer BBQ!
If you liked this project, we'd love if you share it!  Thank you!