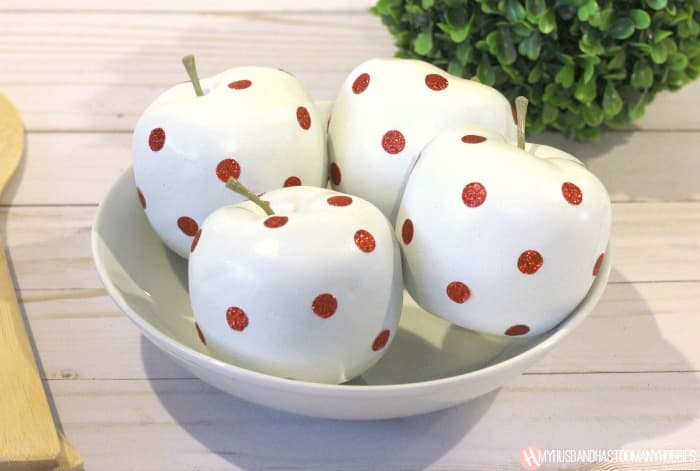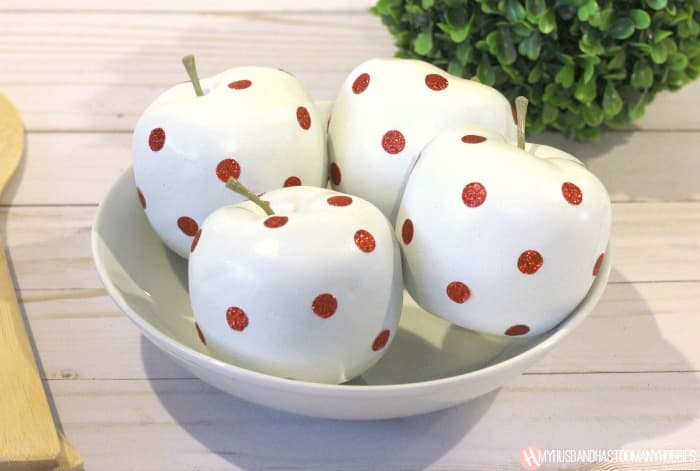 Aren't these fun?  Red glitter dot apples are all the rage right now . . .  well they could be, if more people made them.  Ha!   This is one of those 'what can I do with these?' kind of projects.   I was cleaning out cabinets the other day while waiting for some project or another to dry, and I came across four green plastic apples.   I can't even remember the last time I used them in any kind of display.
I guess I was in a makeover mood, because the apples quickly became my next victims.   You'll have to forgive me, because I was on a project roll and completely forgot to take a "before" picture.  You'll just have to visualize some ordinary looking green apples.
Here's How To Make Your Own Whimsical Apples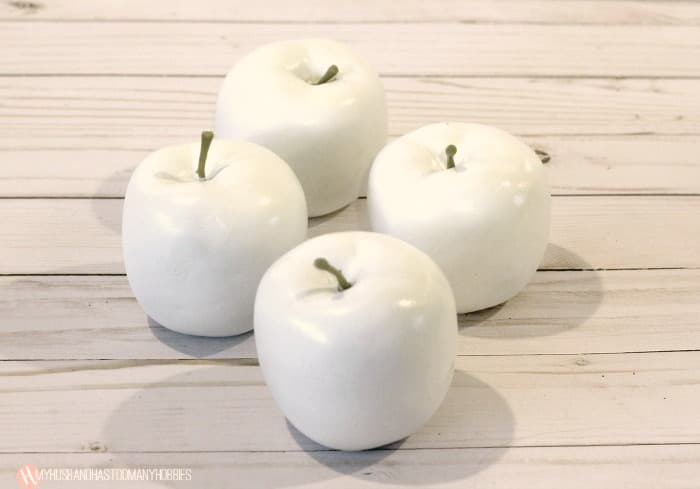 Without a plan, and because I was already spray painting several other projects at the time, I took them outside and gave them two coats with a glossy white spray paint.  I did take a few minutes to wrap painters tape around the stems before spraying.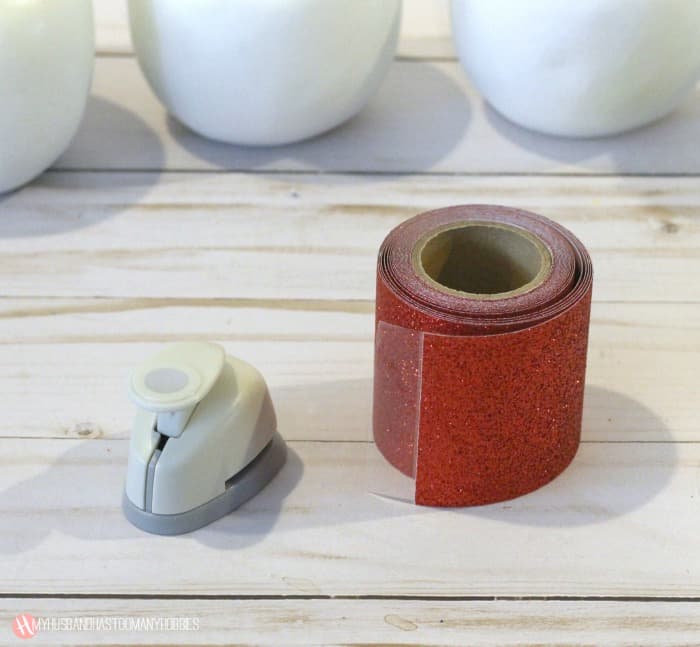 After they were dry, I thought they needed something more.  I dug through my craft supplies and came up with a roll of red glitter tape and a circle punch.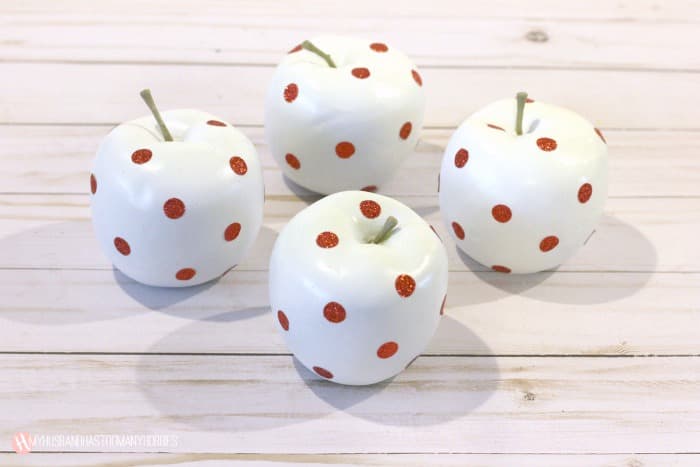 The tape had a backing to it, so it was easy to punch the circles and then peel off the backing.  I stuck the dots at random on the apples.   Perhaps they are a little whimsical, but we all need a little whimsy every now and then.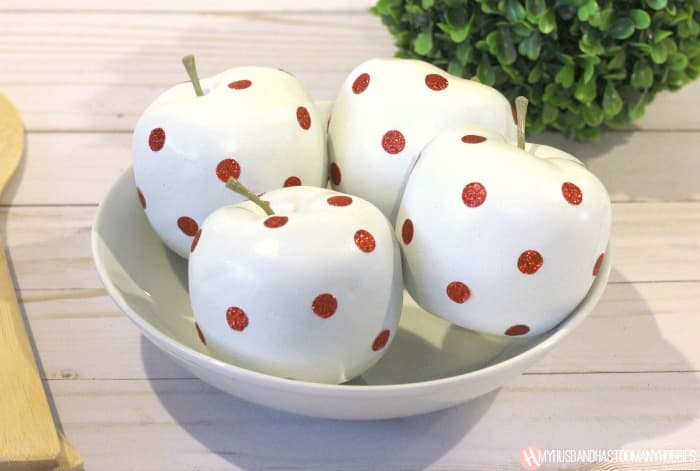 I put them in a white bowl and they made me smile.  However, I felt that the bowl was a little too small to display them in.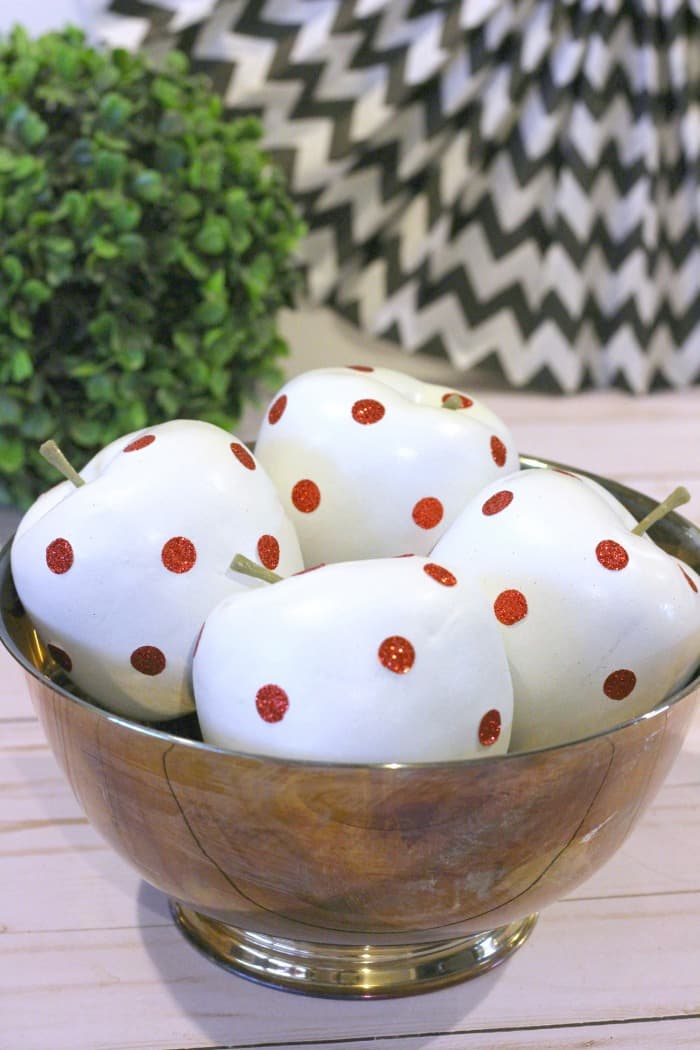 So I dug out a tarnished silver bowl to display them in and I loved them even more!   I'm looking forward to setting these out as part of my fall decor this year, but really, I think they could be set out all year-long.
In case you were wondering, I never finished cleaning out the cabinets.
If you enjoyed this project, please Pin It!  Thanks so much for supporting this blog.