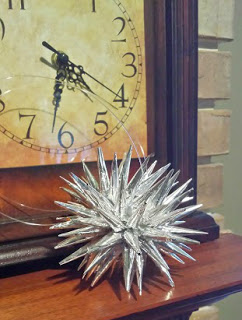 Over the weekend, I was doing more Pinterest surfing, than I was project completing.  This is a problem when I am past due in posting a new project to share.  I came across a post with a wonderful tutorial on how to make a DIY Polish Star and knew I had found a project to share with you.
You can see the video from Good Ideas For You [ here ].
I've seen these before and wanted to make a few for Christmas decorations. The video was detailed and easy to follow. The only problem I had was, I had no beautiful paper or cord or the sequins that she used in the video.
Knowing that I wanted to complete and post a project this weekend, I was determined not to let that small setback stop me.  I decided that I would try this project out using what I had on hand . . .heavy-duty aluminium foil.
I was unsure if the foil would really be sturdy enough for the project . . .but after working carefully with it, the end project is surprisingly sturdy.
Tutorial for DIY Polish Star
Step One:


I tore off a large piece of the aluminium foil and folded it several times and then using a quart can of paint as a template, I lightly drew a circle with a pencil.  Ten circles are needed, and since the foil is so thin, I cut all the circles at once – nice time-saving 🙂
Step Two:
Fold the circle in half, then in half again, and then in half once more. I did several of the circles at once.
Step Three:
Open the circles and trace a smaller circle in the center. I had a penny sitting on my craft table, and it worked just fine.  Cut on each folded line only to the center circle. I tried cutting several at a time, but this was not really time-saving, because it was an effort to get them apart without ripping the foil. Went much faster to do one or two at a time.
Step Four:
Put a small amount of glue in the left corner of one of the cut pieces. I used jewelers glue, but I suspect that Elmer's glue would have worked just fine. I dabbed the glue on with a cotton swab, because it was easier to control the amount of glue, you don't need a lot.
Step Five:
Take a sharp pencil and line up the tip of the pencil to the end of the section that you are going to roll. Roll from the right to the left. Pull the pencil out and do the same for all sections of each cut circle.
Here are my rolled stars:
Step Six:
Take a sharp point and make a center hole. I used an embossing tool, but the pencil would have worked just as well.
Step Seven:
Take a piece of decorative cord, thin ribbon, . . .or in my case, some fishing line (because that is what I had on hand) and string a 'sequence' (which is what the woman in the video did) – or a button, which is what I could find that would work.
Then string the first star piece with the 'good' or shiny side facing down. String all the other pieces on top of that with the shiny side facing up. Top with another 'sequence' or in my case – another button.
Step Eight:
Open the string and hold one in each hand and gently pull out to each side and then put a knot or two in the string.
Wa la . . finished!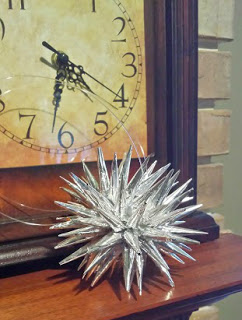 Beautiful . . and sparkly . . just like I love!
I will be making several more and some larger ones as well to hang in the house for Christmas!
Note: You can dress these up even more by adding glitter to the tips.  Wrapping paper or scrapbook paper works well too.
Now, go make yourselves some of these beautiful easy Polish Stars.